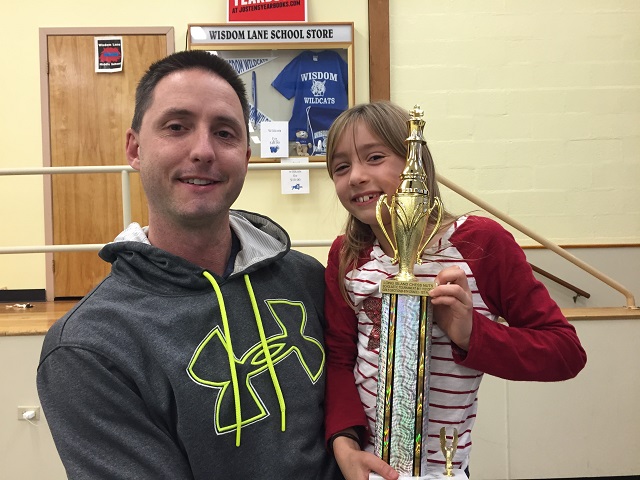 Last year, while abroad in London, we did manage to play in a few chess tournaments.
But the chess scene over there, well, was not nearly as developed at what we have in the NYC-area. Basically we were spoiled over here. In New York, there are tournaments that kids and adults can play in essentially every single weekend. They are run ultra-professionally and we can pretty much cherrypick the ones we want to play in.
Nevertheless, we still played a fair share of chess online and John kept up his lessons with his teacher, National Master Robert Guevara, over Skype. Then this past summer John attended a week-long overnight "Russian grandmaster" camp at Cheshire Academy in Connecticut.
So there had to be some real progress made, but the likes of which I could not be sure of.
But we didn't get into tournament action until November…
At the first Long Island ChessNuts tournament we started off with a bang.
John drew a player whom we discovered later on that was rated a lofty 1784 in round 1. While certainly underrated after a 14 month European hiatus….John, officially only rated 1055, was way over his head.
I absolutely could not believe it. I almost had tears welling up in my eyes.
Understand that we have put A LOT of work into chess. I had to learn the game myself. And we hadn't received any real positive feedback in quite some time.
After this big win, the tournament was already a raging success as far as I was concerned.
John beat his second round opponent (rated 1328), and was actually BEATING the eventual winner (rated 1848) deep into his third round game until he blundered it away.
Meanwhile…on the other side…I do have another child:
That's right. Chrissy won the girls K-6 division.
It is great to have two kids playing – so I'm always hedged somewhat!
The next weekend, it was on to Philadelphia for the Liberty Bell Open the weekend after Thanksgiving.
I actually played in this one too!
We played, as a family very mediocre. John 2-4, Chrissy 3-3, and I went 3-2-1 (3 wins, 2 losses, and 1 draw). Although we ate enough cheesesteaks – and Amish hand-rolled donuts to more than make up for it.
John had another big tournament not far away. But first, he had to go back to Washington Square and exact vengeance on the "Legendary Cornbread". (Washington Square is the real-life setting of the movie Searching for Bobby Fischer.)
In fact, just this week the video has gone somewhat viral on YouTube. A few days ago it only had 2,000 views but as I type this the count is up to 27,000!!!
Up next was the biggest, most competitive youth chess tournament of the year – The Greater NYC Scholastic Championships.
I'm going to repost below what I published on Facebook Be sure to Like my page if you haven't already – as that's where I'm currently most active: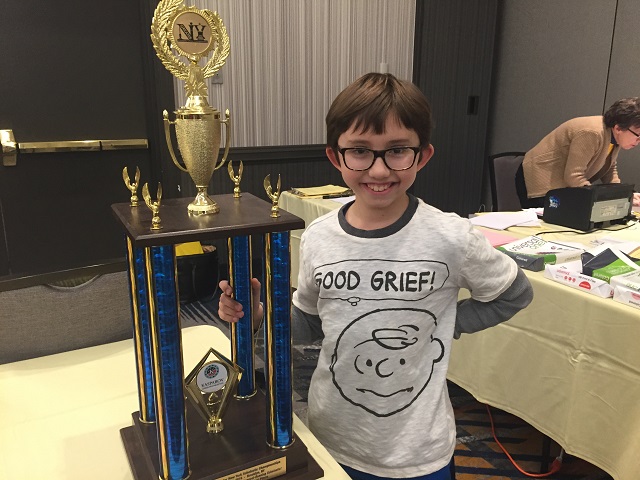 We are so proud of our son John for winning FIRST PLACE in his division at the NYC Scholastic Chess Championship yesterday! He played awesome, crushing everyone through 5 rounds. Tied with another undefeated boy….he had to play a 5 minute blitz game playoff which he, in his own words, "crushed" his opponent. There was some additional drama too. One of his opponents/victims misreported the result of his game. John annihilated him in 16 moves BUT the kid reported a "draw" to the official scorers and then ran away and hid when John objected and the judges tried to find him for clarification. TWO HOURS LATER, after the entire field played round 5, after John won the playoff,…this kid showed up with a ridiculous doctored scoresheet claiming the game was drawn by a 3 move repetition.
Now John had just taken the kid's queen….and nobody in such a completely winning position would ever make a 3 move repetition. In other words, this was ludicrous. BUT for nearly 30 minutes they indulged this child's, or should I say HIS COACH'S grievance.
Rightfully the boy should have been instantly DISQUALIFIED for lying about the result in the first place.
The coach had to be complicit because anyone with an iota of chess experience could have looked at that scoresheet, seen an overly aggressive player getting thumped…and inferred that the child who, btw, ran out without shaking hands or saying "good game"….got beat badly and was upset. Hence he lied. It happens. He's a kid after all.
HOWEVER the coach should not have put the child in a position to further compound his "error(s)".
After a very long time, I poked my head into the room and saw the judges grilling the boy for "sloppy notation" that was "inconsistent with the quality of his other notated games." AND tears running down his face.
So I blame the coach – and will write a letter to the principal of that school.
Essentially they wanted the point not to take away John's overall victory….but so their school team would win second place. It makes a little more sense now, no matter how wrongheaded.
There's more…
Let's just say there were LOTS OF WORDS exchanged by some parents while this whole fantastic arbitration was indulged.
It was indeed SURREAL, but they had to say that it was my son who cheated in order to make their case. How would you handle that?
AND when my son was awarded his hard and fairly-won trophy these parents had the gall to actually BOO.
Some more WORDS were exchanged, although quietly in deference to the proceedings.
And then on the way out a whole pack of them accosted me again. More heated words were exchanged and this time it required "physical separation".
Later that evening my sagacious uncle advised me not to mess with the Russians in Brooklyn.
Hah!
Don't mess with homeschooled families who play chess everyday and would never let anyone push them around.
Alright, that's a lot of chess for one post. Phew!!!