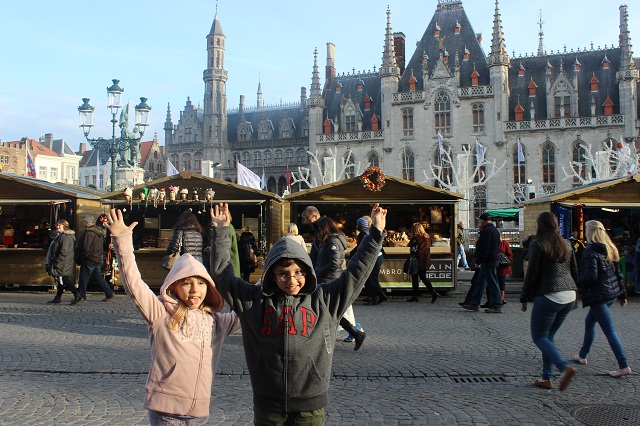 Ironically, this year we spent our Thanksgiving….at the Christmas Markets in Belgium!
Only a 2.5 hour, £90, train ride on the Eurostar from London, we arrived at Brussels on Thanksgiving morning and then shortly thereafter boarded another 45 minute train, heading back west(!), to Bruges.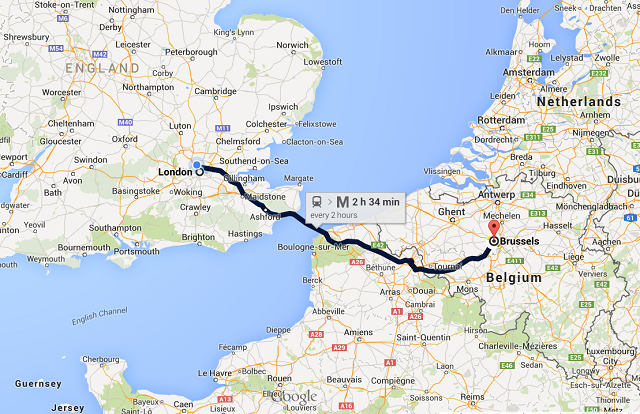 The plan was one night in Bruges and then one night in Brussels – three action-packed days overall.
Bruges
We didn't know much about Belgium before going but we studied up and expected to hear Dutch ("Flemish") and French. We expected a lot of beer, frites, chocolate, and waffles too!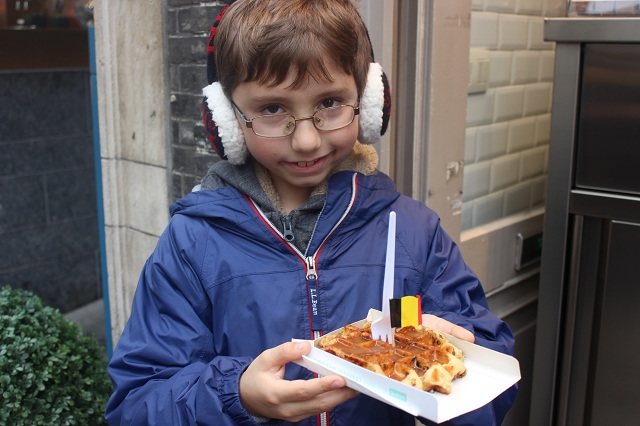 Right off the main square in Bruges I did enjoy the BEST waffle I ever had in my life. It was I N S A N E….melted in my mouth. (I just had John hold the waffle for a moment and fake smile for this pic.)
Bruges is not that big. First we split up. I took John to try to find a walking tour at the city hall. And the girls (Grandma too!) went to do….whatever it is women do when they are unburdened with men. Shop. Eat. Torture each other. Etc.
I don't have any pictures, but I understand they at least took a horse and carriage tour of the city.
Bruges is, to me, the prototypical quaint European city with cobblestone streets, cafes, gorgeous architecture, magnificent towering churches,…it even has canals.
As always, there's too much to describe. So I would recommend skimming our amazingly colorful pic GALLERY to start out with. They are in order so the first bunch are all from Bruges.
We didn't have anything too special for lunch – and it was somewhat expensive on top of that, right on the Markt (main square).
Dinner, thanks to TripAdvisor, was better but not worth touting. However later at night, Inez and I left the kids with Grandma at the Hotel Prinsenhof and we found a more authentic Belgian experience at Bistro Zwart Huis – a place I would HIGHLY recommended going to if you are ever in Bruges.
Oh….the Christmas Market?
Well it was cute; a few dozen stalls spread out over only about 2 locations; and pretty small. But it was okay. They had the ice skating rink in the middle of the square, some music, winter-like temperatures, many horse-drawn carriages, and church bells ringing. It was all, as they say in London, rather "lovely".
Watch this clip below of Bruges footage. You'll see and hear the Belfry, you'll see some candy-making, the train ride back to Brussels, and some street performers:
Brussels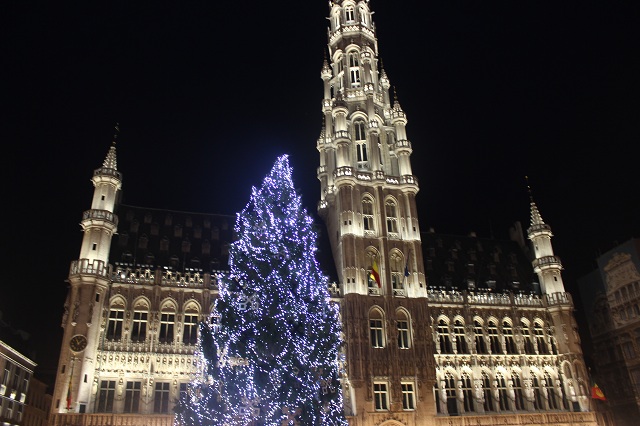 Did you check out the GALLERY yet? That's where you'll see all the chocolate…
I had no idea what to expect in Brussels. I was expecting it to be somewhat tame because it is the center of a lot of government – European Union and NATO.
But right out of the train station we could tell it was more of a bona fide, hopping city.
The girls and the boys split up into separate cabs to the hotel. The boys paid 10 euros however the girls were charged 17 euros – for the same distance!
We were staying at the Marriott right in the middle of Brussels.
After a quick breather at the hotel we set out to hit the much larger, and more renowned Christmas Market.
First we did a loop around the stalls at the Bourse (Stock Exchange) before heading to the main section – of which you'll get a nice view in the video:
The stalls were very "crafty". Yeah there was beer, coffee, hot chocolate….sausages, FRITES, and waffles as well. There were some rides but our deprived children were restricted to one spin on the Ferris wheel and one rip-off slide down a…..slide.
Dinner was bought at the stalls. The kids and Grandma ate fried junk. Inez and I enjoyed some massive bowl of mushrooms and something else "French" but I can't quite remember.
Then it was bedtime for them – the fried junk eaters.
Inez and I ventured out ourselves to the super-famous, number-1-ranked bar in Brussels – Delirium Cafe – home to 2,000 flavors of beer.
Subsequent to that we hit a sports bar ("The Big Game") that had a nice band playing and shockingly cheap beer (one euro each!). And then we wandered around a little before stumbling on this!
I mean we did some research but it's hard to figure out everything you are SUPPOSED to see in a city. There's so many main squares, churches, and palaces in Europe…
But thank goodness we got to see Grand Place at Christmas time!
In fact I didn't even have my camera when we went there. I had to go back to the hotel and get it!
We tried to get frites for a nightcap but we were too tired, it was getting too late, and the line at Frit Land was too long. Little did we know it would be even longer the next day come lunchtime!
As I said at the top, Brussels was really hopping. There were tons of young people out at night boozing and carousing. It genuinely felt like Amsterdam and we heard significant "juvenile fun" outside our hotel deep into the night.
We didn't have much time the next day in Brussels but still managed to get some ice skating in, some more frites and waffles, and another walk through the Grand Place.
In summary, I would say that although the Christmas Markets were a bit over-hyped, that doesn't mean the trip to Belgium was. We had a great time in both cities and would highly recommend a 3-5 day trip there this time of year.
One more time, here's a link to our colorful and memorable GALLERY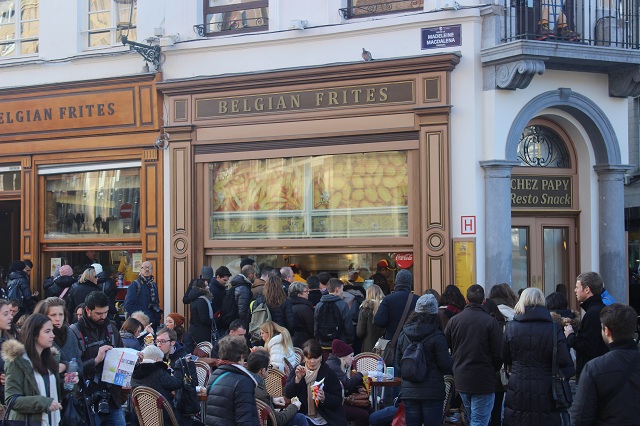 We leave for our next trip to Poland and Austria…. this weekend!