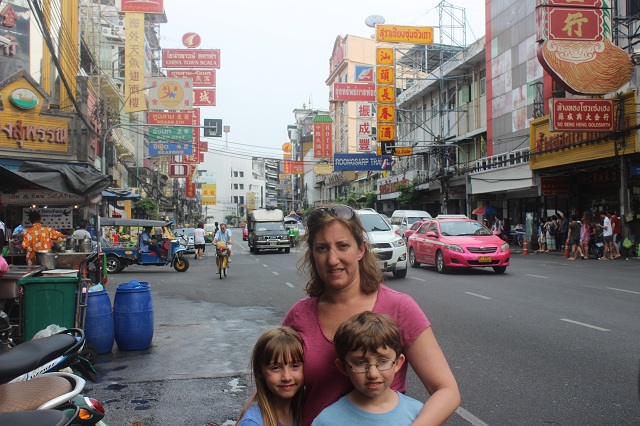 Bangkok was to be our last stop before returning to our long lost home in New York….and it'd be brief too.
If you haven't read the first two Thailand posts, here they are:
Riding Pachyderms in Chiang Mai, Thailand
And here's my photo GALLERY for Bangkok – in case you want a preview.
Monday
So we had just under 2.5 days to sprint through this massive (8 million people!), bustling metropolis.
We were staying at the Anantara – which was AWESOME (5 stars?). A riverside hotel with tropical themes and all the amenities.
Right away we dashed off in a cab to Bangkok's Chinatown. Yeah, the Chinese have huge ex-pat contingents….well, all over the globe.
In Chinatown we enjoyed an amazing dim sum-sorta lunch. It was cheap and I'll say it again….it was amazingly good, melt-in-your mouth dumplings, noodles, duck, etc.
The holiday (Thai New Year's aka Sonkran) was ramping up to full-force. There were kids and young adults on corners dousing passersby with squirt guns, buckets of water, and armed with hoses from the streetside shops. Oh yeah, they were "chalking" people too. They were skillfully throwing white goo at everyone; I couldn't believe the long-range accuracy at times! You'll catch a glimpse of the fun about about the 2:20 mark of the video below.
We were warned in the hotel, multiple times, that we were going to "get wet" – that we were going to be enthusiastically targeted by these marauding predominantly young males. If you don't want to get wet, stay far away from the pool, right?
Well I had my camera in hand constantly so I was somewhat scared of it becoming a Sonkran casualty.
But would I actually get wet???
Say tuned…
We wandered around the streets after lunch. Then headed to MBK Mall. Then took a long cab ride through crawling holiday traffic down to Asiatique – a hopping riverfront scene. The cab ride was expensive – 400 baht ($11.93)!
Exhausted, we took the hotel riverboat shuttle across the way to our hotel and wrapped up Day 1. Bangkok defies literal description, it needs to be experienced. I apologize upfront for the shaky early bit. I was trying to keep my camera dry, conserve memory space, and let's face it, I'm still a rank amateur still when it comes to videography. The video starts off with a final look at Phuket and note that you can watch these videos in full-screen or on YouTube if you like. They are in HD and should hold up fine
Tuesday
Our second day was quiet. We had breakfast outside – a hotel buffet breakfast that actually topped the one from Chiang Mai….which had dethroned the hotel in Salzburg for the very best breakfast we'd have in all our travels.
We took a cab to the Museum of Siam. "Siam" is what Thailand used to be known as. We did manage to learn a little history on this trip!
We then walked west to one of the major temples….then took a public water ferry back to our hotel to cool off by the pool.
We ordered food for the kids and tried to figure out how we could leave them alone while Inez and I went out to dinner – maybe on one of these trendy skyscraper rooftops?
But we ultimately wimped out. We just didn't feel comfortable leaving our 8 and 10 year olds alone, in a hotel room, while we explored BANGKOK!
So we just took the ferry across the way and sampled all that mouth-watering food you saw in the previous video….for a couple hours.
Wednesday
Our last day was going to be a LONG day….as our 20-hour flight to New York would leave around 1 am. With the time zone changes, we'd be traveling back in time.
We were still going strong (unlike the end of our Sicily trip where we were pooped out) and planned to make the most of it.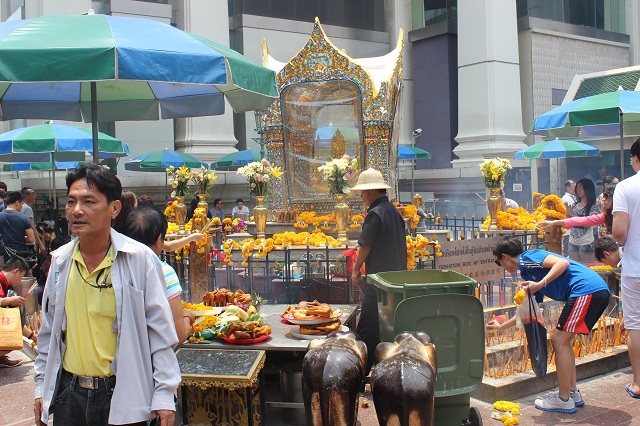 After breakfast we took the monorail. My kids are in love with all things "public transit" these days. We went looking to climb (elevate?) up tallest skyscraper in Bangkok – the 85 floor Baiyoke Tower.
What an absolute mob scene there trying to go up for the views! You'll see it in my video.
Afterwards we took a tuk tuk ride over to the Jim Thompson House. Who is he? Well he's an American that pioneered the silk trade between Thailand (Siam) and the rest of the world. In many ways he put Thailand on the map (long before American Vietnam War combatants on "R & R"!) and has been long revered.
The views from the Baiyoke Tower were truly spectacular – although apparently not as exciting as that book Chrissy couldn't pull her nose out of!
And, you may have noticed in the clip, after a jam-packed elevator and lobby….there was no one on the roof with us!
Apparently everyone was bound for the floor just below – for some buffet dinner.
After the tower and the museum we made our way back to the hotel for a brief respite. We had booked a 2- hour dinner cruise up the river for our Last Supper.
Then it was off to the Bangkok airport. The airplane clip in the video – where Chrissy was excited about having "four windows" was from the British Airways plane we connected with in London en route to New York's JFK Airport.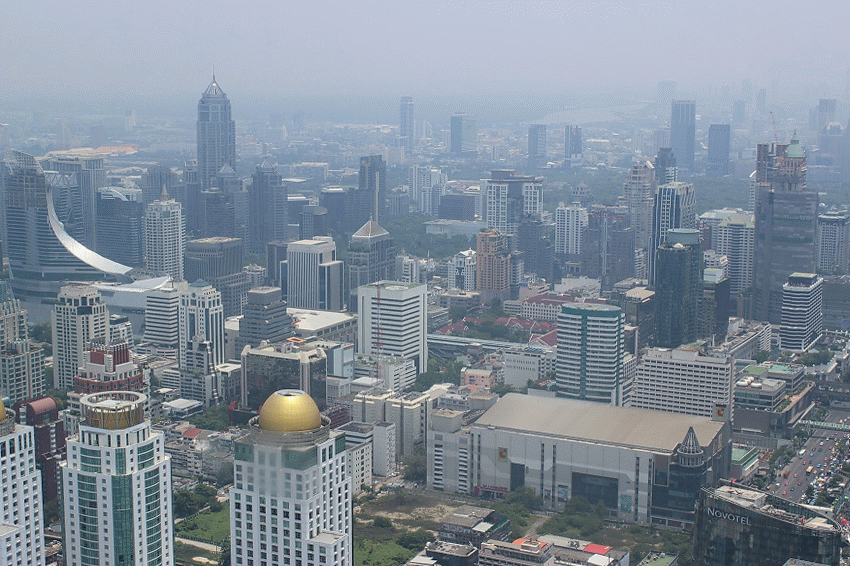 Thailand Summary
Inez and I both concur….it was by far, our favorite destination. The food was out-of-this-world, even better than anything we've eaten in Italy. The people were incredibly hospitable; everything was dirt cheap; it was exotic; and very comfortably warm.
No I did not get more than a drop of water on me throughout Sonkran. Many squirters eyed me up but backed down either because of how scary I looked, how genuinely considerate they were, or some combination thereof.
We didn't have to use squat toilets even once. We never came across any of the "seedy" businesses many people suggested we'd be amidst…
What a trip!
I'm honestly already looking forward to going back to Thailand one day….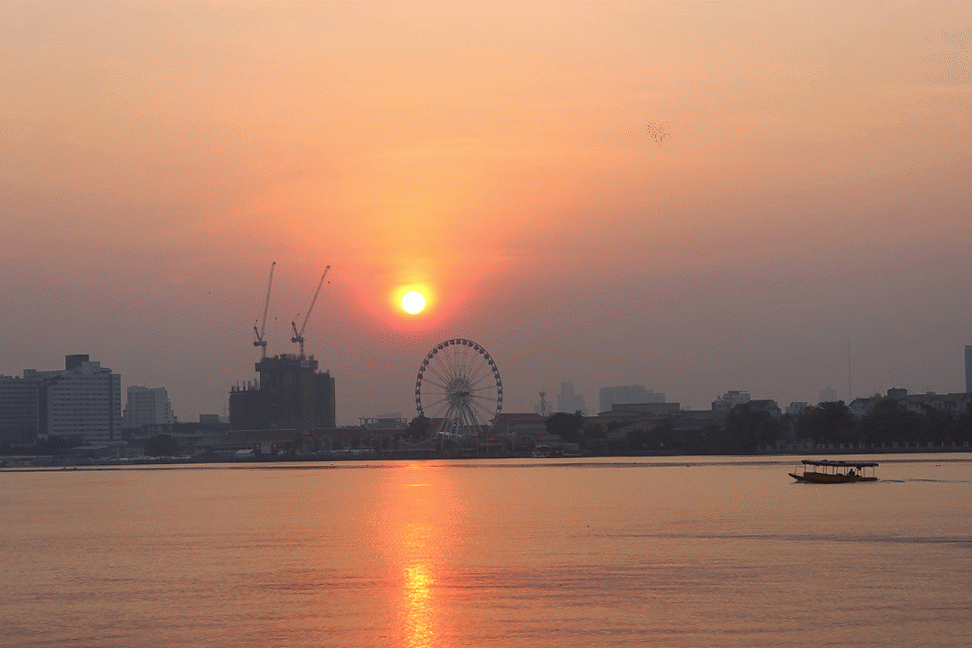 I could definitely see myself living in Bangkok – I was that smitten.
Here's one last link to my super-colorful photo GALLERY.
We are home now, back in New York. We've been back. It actually took me a full month to get these Thailand posts up – and that was despite the fact that I was able to take advantage of super-fast internet connections at the hotels and was able to upload the entire stupendous load of photos and HD video before we even flew home.
In case you aren't up-to-date….we'd been gone for the past 15 months. See – Leaving London.
Regulars might have noticed that there is now a Members section of this website. Click the link to find out more if you haven't already.
So my next post will be coming to you from boring old New York City…