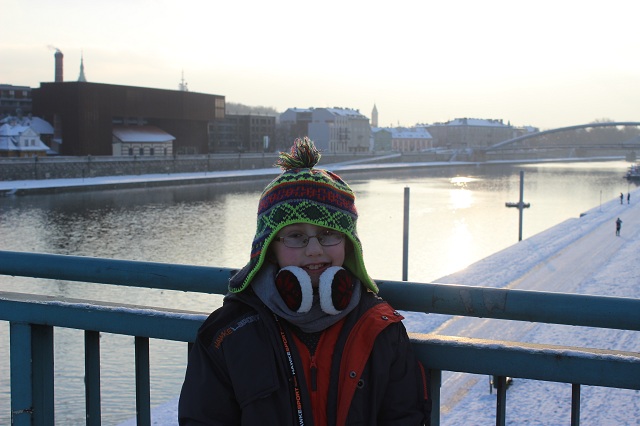 Poland is a place I've ALWAYS been interested in traveling to. Why?
Because I'm half-Polish – depending on where one draws the Poland-Ukrainian border. In fact I have Polish blood on both sides!
We planned to visit Krakow a couple days after Christmas. Additionally, my brother joined us as the experienced Krakow tour guide.
You can get the quick and dirty, visual recap by checking out the pic GALLERY.
Sunday
After a 2.5 hour flight from London, we arrived in snowy, frigid Poland. Refreshingly, it took all of 30 seconds to get through customs and into a cab bound for the Old Town.
The fare was 89 Polish zloty. I gave him 100, which amounts to $35.
Having left New York for London last January, we missed all that snow in 2014. So the Polish snow was the first in quite a while for my kids – who were pretty excited for it.
BUT they have no idea how exciting snow can be because they have never sat huddled around a radio waiting for school to be cancelled on account of the weather. Those were truly some of the best days of my life – outside of the last day of school, annually, in June!
We were staying a the Hotel Matejko for the bargain rate of $100 per night. It certainly felt good to be away from the nosebleed prices of London.
(Later in this winter trip we'd pay quadruple that for a single night's stay!)
First things first. Time to eat. We enjoyed a terrific lunch next door at Jarema.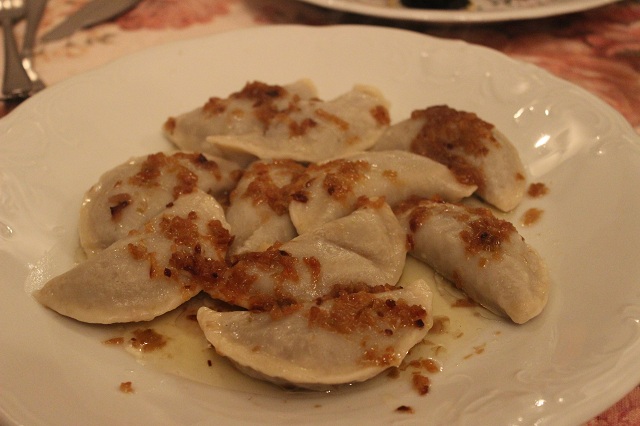 My brother met up with us for lunch. He was staying at a hostel in the Jewish Quarter….for only $13 per night.
After eating we walked around the Old Town. There we saw several churches, including the famous, asymmetric St. Mary's Basilica….horse-drawn carriages, and Christmas stalls in the Main Market Square.
Despite the freezing cold, it was quite the hive of activity!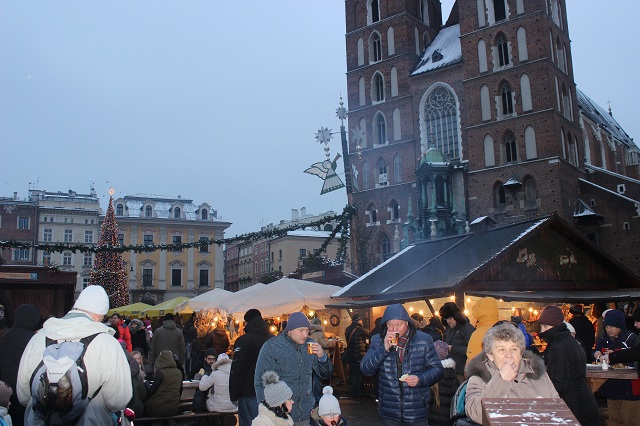 I mean it was COLD. My feet and face were numb. At least one of the kids was all but bawling in hypothermic pain. Maybe it was 15 degrees Fahrenheit. I don't know. We had to duck into Coffee Heaven for hot drinks after a couple hours.
Inez went to the nearby train station to get our tickets to Vienna and when she got back it was time for dinner.
Using Google and TripAdvisor I came up with Restauracja Wesele. While it wasn't highly ranked on either site (a lowly #172 on TA!) my hunch turned out to be correct. It was fabulous.
I think I've figured out one of the problems with these online ratings. They are dominated by cheap people!
What I mean is that the food from cheaper restaurants gets slightly overrated while the food at the pricier places gets knocked more often. Bad service can disproportionately dent a reputation too. Oh, one more thing, always look at where the reviewers live. Well, without being culinarily offensive, let's just say that my wife and I value the opinions of New Yorkers above, well, non-New Yorkers.
In addition to pierogies in Poland, one must certainly also try the placki (potato pancakes) and the bigos (meat and cabbage stew).
HOWEVER, I was really craving kielbasa and golabkis (stuffed cabbage) and this was now the second restaurant in a row that had neither!
I'm sure they'll have kielbasa with eggs for breakfast…
Monday
But our hotel didn't have kielbasa at its breakfast buffet either. What's going on? My stomach was getting angry…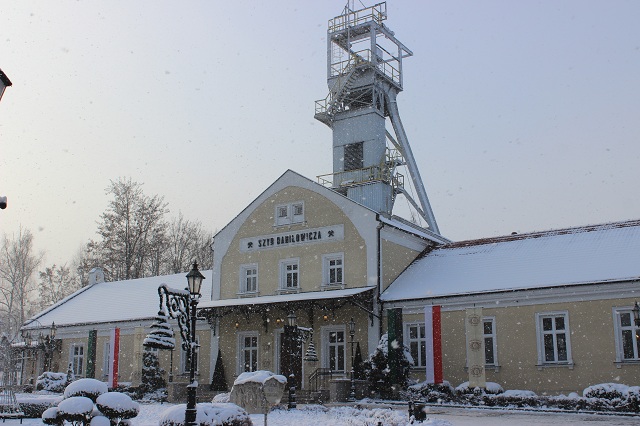 Today was our day to tour the famous Wieliczka Salt Mine. For less than $100, total, we got a 40 minute bus ride there and back plus a 2-hour guided tour.
In a word, it was AMAZING.
I mean I didn't have much in the way of expectations. Would you, for a salt mine?
But there is a tremendous amount of history in that 700 year old mine. Apparently salt used to be as valuable as silver….and the mine represented a huge proportion of Poland's economy for many years. Plus it was interesting going so far underground!
So there was salt, obviously: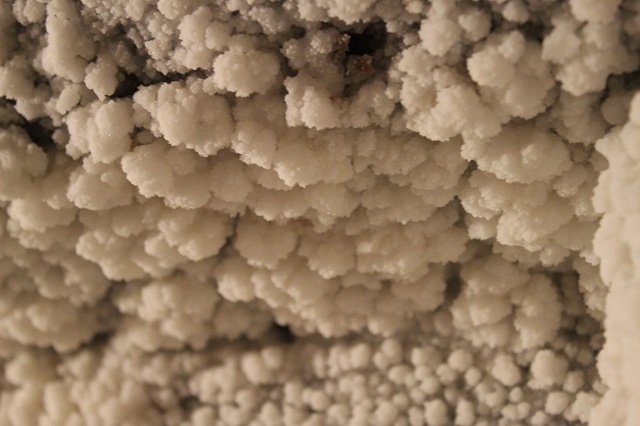 That's called "cauliflower salt". We just pinched it and could eat it.
Now you wouldn't believe this but it tasted INCREDIBLE. I'll bet you had no idea that salt could taste awesome – neither did I!
Okay. So the work at the mine was dangerous (e.g. methane explosions) and might seem tedious to us. But miners were very happy. It was warm in the mine and they were relatively wealthy compared to their peers.
When we got back we had lunch near the Opera Krakowska (Opera House) at Babci Maliny – another place bashed on the websites on account of "indifferent service" but that was much better than its ratings.
In case you didn't know, "Babci" means "grandma" in Polish.
Alas, there was still no kielbasa or golabkis for me! I was bummed.
I settled for some potato pancakes that were actually drenched in Hungarian goulash – they left that detail out of the English translation!
I don't think I ever had goulash before but it was very, very good. In fact it was so good that we had Hungarian goulash no less than 4 more times later on in Austria though none of it was quite as good as this first batch.
I was getting the impression that kielbasa and golabki were street food, unfit for serving in restaurants. Did this mean that my Polish forebears, those who raised my grandparents were….lower class people or something???
I'm sure they were. But it seems apparent that kielbasa is to Poland as the hot dog is to America – totally unsuitable for uppity restaurants.
After lunch Inez took the kids back to the hotel to rest up and I ventured out into the cold for a walk down to Wawel Castle and the Vistula River with my brother.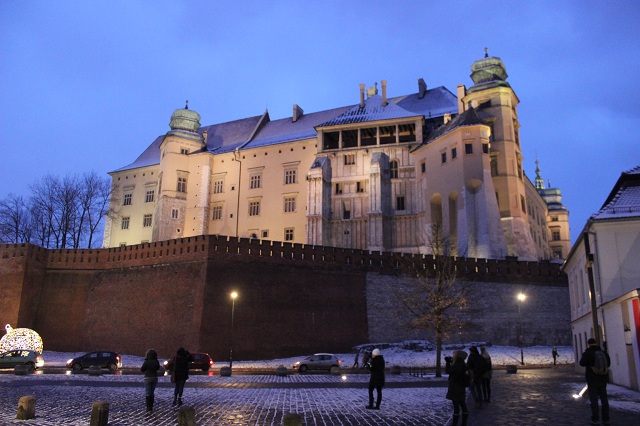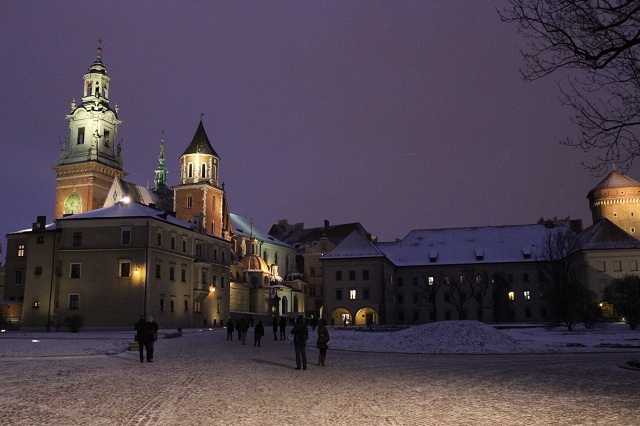 We froze!
Later I went back to the hotel and took my family to the mall at the train station. I must say, surprisingly it was one of the nicest malls I've been to in my life. Plus it was warm in there. We fed the kids food court food, i.e. more greasy pierogies. Oh, I also bought some more warm socks for myself. Basically you could only wear "ski" socks without nearly suffering frostbite and I had only packed a single pair.
Later on we walked through the market again and Inez and I finally got "street food" for dinner. Placki and kielbasa!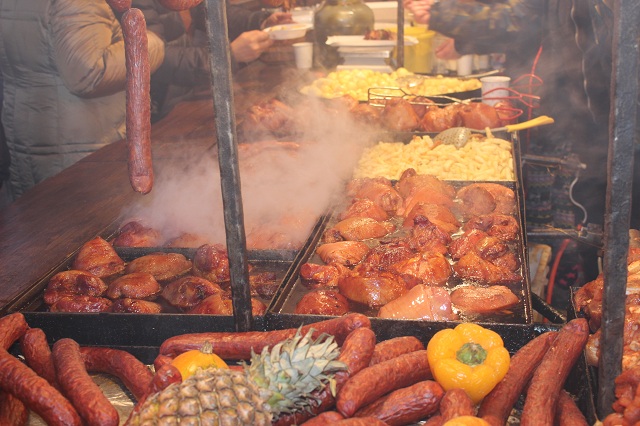 Tuesday
Our last day was earmarked for Schindler's Factory Museum.
What a profound experience that was!
In case you weren't aware, Poland suffered greatly in WWII. First the Germans attacked, then the Russians, then Nazi rule and the concentration camps. Auschwitz is only an hour drive from Krakow…
While the museum had a lot on Schindler it was more accurately a broader "Poland in WWII" museum. I mean, how could one separate everything that transpired anyway?
Side Note – My grandfather was in the Polish Air Force Reserve when Hitler rolled in. He escaped through Romania, France,…and then on to England where he swept my grandmother off her feet. In fact, he's still alive in back Massachusetts at the age of 101!
We decided to walk all the way back afterwards, over the river, and past the Wawel Castle. These are the sunny pics toward the end of the GALLERY.
We tried one lunch place in the Jewish Quarter that my brother liked….but they were all out of golabkis too! We walked out and instead ate at Miod Malina. Take a wild guess at what I finally ate!
On our final walk through the city we grabbed a few souvenirs, watched a New Year's Eve concert rehearsal in the Square, and we even heard the famous trumpeter of Krakow from the steeple of St. Marys – which you can hear briefly in the following video montage:
By the way, there's a famous book about it – that we had both John and Christine read.
Summary
Poland is full of beautiful people who are apparently inured to the Arctic weather. Never once did we experience any rudeness except from the expected, pervasive asinine European table service. They really, really, should try TIPS!
Poland is cheap too and that certainly is a welcome respite for a family of four traveling in Europe.
The young people all speak English very fluently. So don't worry about that.
Like so many places these days, Poland is "up and coming". From the New York Times:
Construction cranes stretch across the Warsaw skyline. Huge malls and gleaming stores open almost daily. Attracted by wage rates considerably lower than those in Western Europe, many multinational companies continue to invest in Poland as a manufacturing and distribution base.
Poland is the only nation in Europe to see growth in every quarter since the financial crisis hit six years ago, with its gross domestic product now 25 percent above 2008 levels while the European Union average remains below that year's mark. In 2003, Poland exported $53 billion worth of goods. Last year, it was $203 billion.
I would say that we certainly saw evidence of that in Krakow – lots of construction and that bright new mall. It wasn't crazy development like I've seen in say Miami or even London at present.
But that's the plucky Polish way. They just keep doing their thing…
Poland with its strong Catholic morals and honest, hard-working spirit would probably be one of the world's greatest nations if it hadn't the geographical misfortune of being located between the perma-belligerents Germany and Russia.
Poland, or at least its winter climate, reminded me a lot of my birthplace, Central Massachusetts. Maybe that's why my grandfather decided to pitch his tent there nearly 60 years ago?
I'm so glad I went and that my kids got to go too. No matter how far removed we feel from it, it's still our heritage.
One last funny bit…
So we spent a long time at Schindler's Factory Museum and like I said it was profoundly moving. I myself read every single exhibit and finished about 40 minutes after the others.
HOWEVER…
As we were leaving, my brother kept complaining about the prospect of being woken up on his train ride home to Ukraine. Apparently "passport control" stops the train at the border and calls everyone to attention – no matter what time it is. And I let my brother complain five times about this looming catastrophe before I laid into him:
I said, "You obviously missed the point of the museum today….people were taking that train to Auschwitz, to concentration camps, and you are railing about having your beauty sleep interrupted for a few minutes!!!"
Haha. Well I cracked myself up a bit at least. Not for nuthin' but he really should go back and read some Viktor Frankl or something.
As you learned in the last video clip, Krakow was but our first stop. From there we took an 8-hour "sleeper train" to Vienna – where we'd spend New Year's at the Ritz Carlton!
Here's a link to the Krakow GALLERY one last time.