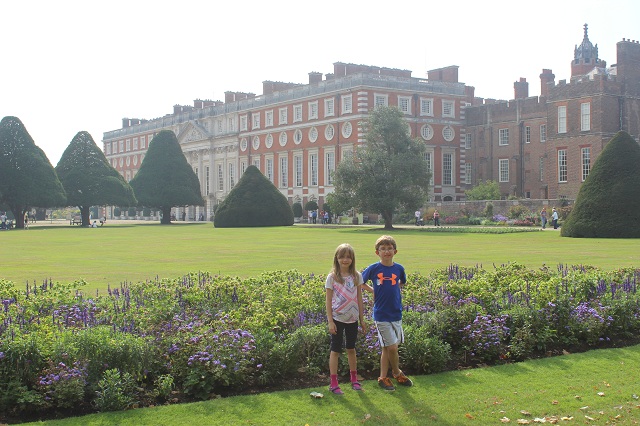 We have not traveled outside of London for a full month now!
Yes, our goal was to venture out somewhere, via bus, train, or plane, as much as we could, on a rough timetable of one trip per month.
But we are a bit road weary; we are trying to milk the beautiful London weather before it turns to the dour, dark, and WET fall and winter; my wife has been a bit busy with work; and we've also been inundated with houseguests (American tourist types!).
With maybe only 6 months left here in London, our entire family wrote down individual "bucket lists" on a shared Google Doc – stuff each of us would like to do before we leave. Ever the grateful, selfless martyr….I had trouble coming up with anything for myself. Dust off my clubs and play golf, once? Go to an English Premier "football" game???
One must be intentional and have a plan if they hope to ever get anything done, right?
I think the expression is, "A failure to plan….is a plan to fail."
With all our guests, we've been doing some of the touristy type stuff that we hadn't gotten around to yet as well as hitting several places that we've already visited including:
Victoria & Albert Museum
Camden Market
Borough Market
British Museum
Portobello Road Market
We did catch, finally, the Changing of the Guard at nearby Buckingham Palace. Normally I can't stand all the "royal" nonsense here in London….but this surprisingly wasn't half-bad.
Twice the kids went to Hampton Court Palace. There John was bold enough to risk decapitation and ask that nasty king, Henry VIII, on the very day of the Independence Vote, how he was going to handle rebellious Scotland! (The obsequious woman is Jane Seymour.)
John and Chrissy also attended a home ed event at St. Paul's Cathedral which was awesome, literally. The inside of St. Paul's is truly spectacular and, as you'll see, so is the view from the top:
The kids, finally, FINALLY, got to ride the famed London Eye. I myself would never pay for it so a houseguest treated them to the $50 per ticket, 15 minute Ferris wheel ride. I'm happy to save you the money. Tell your nagging brood to watch a clip someone uploaded to YouTube instead:
On Chrissy's bucket list was a trip to the HMS Belfast which, ironically, John and I found more interesting than she did. Of course it was a nice history lesson but it also provided some great views from the middle of the Thames. I would skip this one if you have agility issues as there are lots of steep ladders to climb up and tight spaces to squeeze through on a warship. Watch your head too. I banged my head, shins, shoulders, and knees on the metal (iron?) several times.
Here's John's blog post and Chrissy's blog post on our visit to the HMS Belfast.
In the past month the kids went to both the Imperial War Museum and the Churchill War Rooms – which were apparently fabulous. This entire year abroad has been a heavy dose of "history", to put it mildly!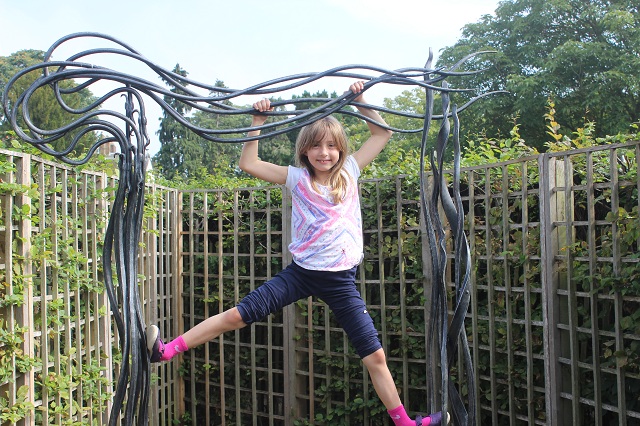 That's Christine, triumphant at the center of Hampton Court Palace's famous hedge maze.
Chrissy excitedly started guitar lessons last month. Being musically illiterate, I had mistakenly bought the kids a guitar a few years ago. I had no idea that their fingers, at such young ages, would be too weak and tender to play the guitar!
And she also started ballet classes this month. Chrissy has been doing dance for a few years but took the last six months off. Her new class is affiliated with the Lycée François – which is an exclusive K-12 school, right across the street from our flat, for wealthy French ex-patriots in London. While the other girls are all bilingual, the instruction is mostly in French. Whatever….she'll figure it out.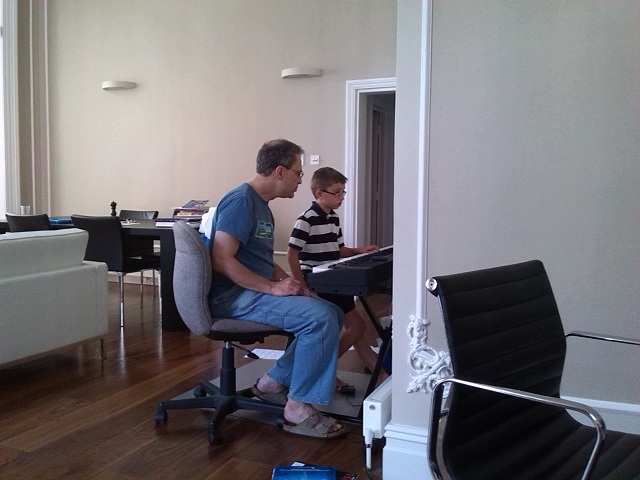 John is doing great as well. Notably, for some queer reason, he's memorized the entire Tube (subway) System here in London. He's not so bad with the buses, either. Essentially he's obviated the need for both Inez and I to ever have to look at a transportation map. On his bucket list is to visit every Tube station before we leave. Apparently others have done it….in a single day too.
Going forward I've decided to skip physical chess tournaments for him now. The youth chess scene isn't as good as what we are used to back in New York. But we are still playing and studying chess every single day at home and online. In fact, we've happily managed to get his old, New York-based chess teacher to throw off his Luddite chains….and resume John's instruction via Skype.
John's old piano teacher, pictured above, came over for a visit with his daughter last week. So John wrested a few pointers from him. However, since June when I fired John's London piano teacher, John has been flying solo. I simply cannot find a new piano teacher for him. It's really unbelievable. I email teachers and schools, even sending clips of John playing,….and they barely even respond. The Royal College of Music, which is only blocks away, hasn't been a help either. They have some ridiculous administrative process for "assigning" teachers which costs 40 pounds ($68) just to sign up for. And if you don't like the teacher they give you….well then you can pay another 40 pounds and they will assign you another one. In other words you have basically no say in picking the teacher. Undaunted, I will keep trying. There has to be someone in London that actually wants to WORK….with a borderline prodigy no less.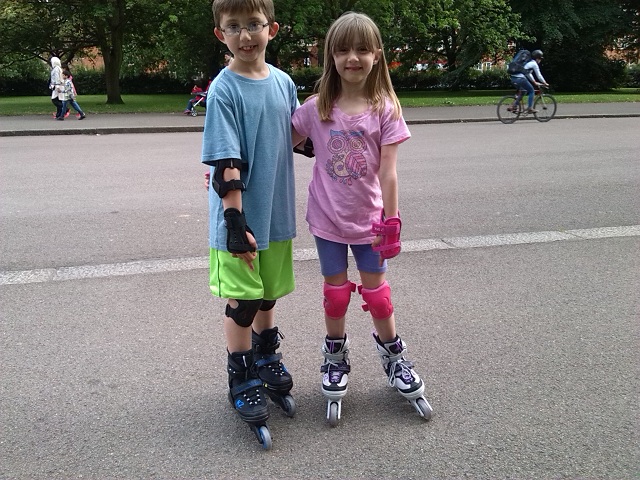 Nobody believes me when I tell them that it basically hasn't rained in London….since March. But it really hasn't.
So every week I see these beautiful weather forecasts and am intent on taking advantage. One new thing we did was buy 3 sets of roller blades which we've been using in Hyde Park (only 3/4 of a mile from our apartment).
We really do have the luxury of planning our week according to the weather forecast. Recently I took the kids on one of these gorgeous days to Richmond Park in southwest London which happens to be the largest park in the city. In fact it's so large there are deer roaming in it!
The kids have never done so well as they have with the super-long "Park Days" with other home edders here in London. A couple weeks ago they enjoyed a "Sports Day" at Ravenscourt Park. And they've also had what seems to be standard in every home education circle – a large "Not-Back-to-School Picnic" in September.
In the past month we've said goodbye to great friends who were moving back to the States…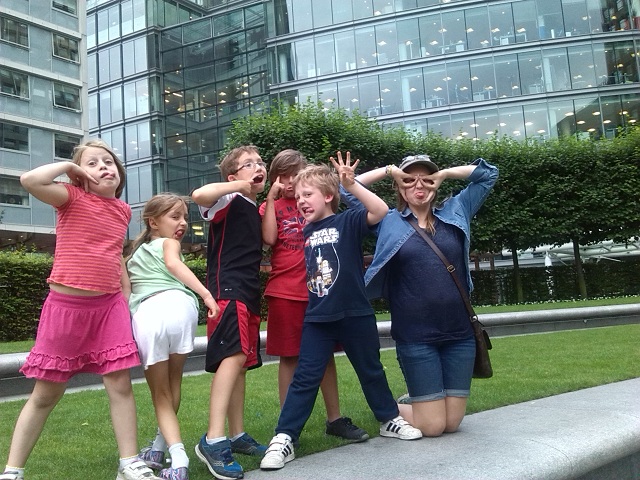 (Pic taken near Victoria Station. It's always easier to get them to make a stupid/silly face….than to smile!)
And we've made a smattering of new friends too.
Amazingly, after only 8 months in London….I often, randomly bump into people I know on the streets now.
Alright, that's a long enough update. You can see some more pics from this month on my gallery.
Looking ahead…
My parents are coming from Massachusetts next week to visit. And we will travel with them up to Liverpool to see some relatives.
We've booked our trip to Istanbul in mid-November.
We're trying to do something over Christmas break. Potentially we'll do Salzburg and the snowy Alps via train. Click here for a preview of what it might be like (minus the one deadly crash incident!).
Supposedly March 31st will be our last day in London. It's creeping up fast so, as you can see by this busy month, we are cranking our sight-seeing into high gear.