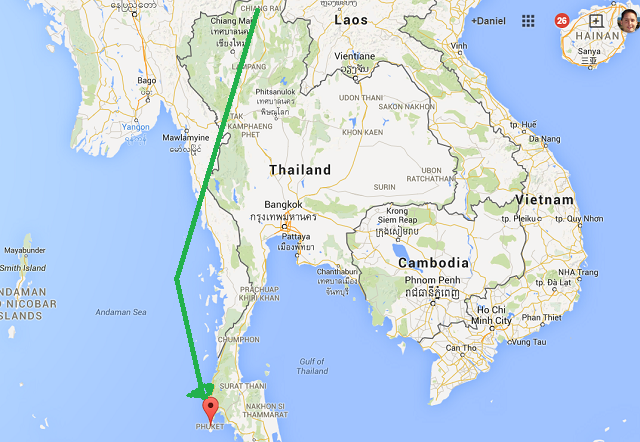 First visit – Riding Pachyderms in Chiang Mai, Thailand for context if you haven't already.
Wednesday
We flew 1 hr 40 min from Chiang Mai at nearly the top of Thailand, 754 miles south to almost the bottom, just above Malaysia. Phuket is beach destination. After 15 months of un-tropical London….we were very much looking forward to relaxing on the sand and by the pool for the next 5 days….and absorbing the sun!
Again we were privately shuttled from the airport to our oceanside hotel – The Centara Grand.
That afternoon the kids hung out by the pool and I joined them a bit later for a little hotel BBQ dinner. It was "hotel food" at "resort prices" so, well, this was the last night we'd be doing this!
For a preview of what we did, take a gander at our GALLERY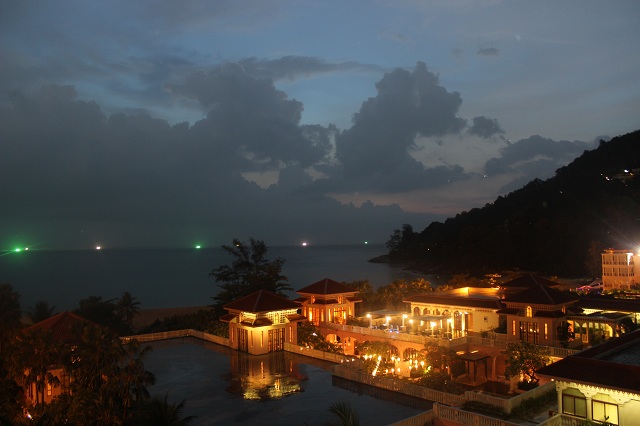 Thursday
We spent the whole day at the pool. The heat was weird. I mean it was 97/98 degrees (36 Celsius) in Chiang Mai and not only did it not feel uncomfortably hot (we even wore pants in the temples) but none of us got sunburned.
The internet told me, before we went, that Phuket would be a little cooler. And that made sense too, being on the water. HOWEVER I laid under an umbrella all day our first day in Phuket at the pool without any sunblock on and got completely fried!
Yeah, THROUGH THE UMBRELLA – which must have been made in China or something. What exactly is the point of a porous umbrella???!!!
That afternoon I ventured out into town in search of more currency. Again I was surprised to find the spread so narrow (.5%). I bought two massive jugs of water and sunscreen ($15 for a tiny bottle!) and took a $3 taxi back to the hotel before my skin burned off entirely.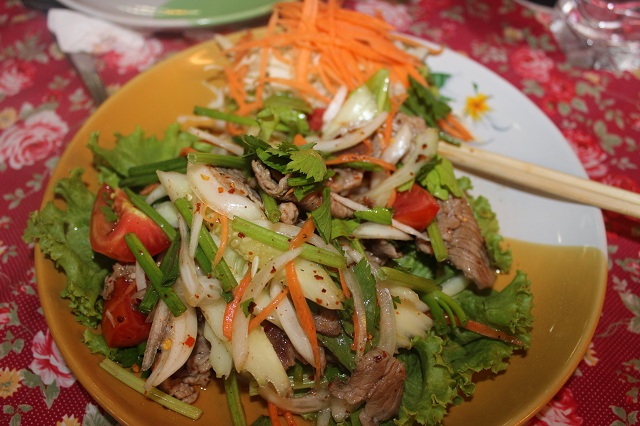 We walked down the beach maybe 1 mile to eat an early dinner at Mama Jin's – which is highly rated in that Karon neighborhood (have to click the link).
The food was divine. We were particularly blown away by the papaya salad with spicy beef (see above).
Friday
The next day I had to avoid the sun entirely. I went to the business center with my laptop….and I worked out at the gym for nearly 2 hours.
Inez and the kids did the pool, the "kids club", and read under those porous umbrellas all day long.
Because it was so good, and so cheap, we returned to Mama Jin's for dinner again.
Saturday
We had a 6 am scheduled shuttle pickup for an island boat trip. You always have get out on the water when in the tropics, right?
There couldn't have been more than 20 of us on a speedy boat bound for the Phi Phi islands which are famous as the setting of The Man With the Golden Gun (James Bond) and The Beach (Leonardo DiCaprio).
In fact, the tour guide said they were infinitely grateful for the Americans cleaning up the islands to film The Beach. He said the beach and lagoon had been previously full of trash – 3 feet high of plastic bottles and whatnot.
And now, obviously, it's a huge tourist destination that brings jobs and $$$$ to the local residents.
I'm not sure but we might have stopped 6 or 7 times. We all enjoyed swimming, snorkeling, and the spectacular beaches. As you saw in the video, the cliffs were very steep. I asked and our guide informed us that yes, intrepid fools do scale the cliffs and dive off – as much as 50 meters up (150 feet)!
Although a few weeks prior someone slipped on their ascent and died.
There were of course signs forbidding cliff diving but I can't imagine they are enforceable or would be heeded by thrill-seekers.
Phuket cliff jumpers can be found on YouTube.
We stopped for lunch at one of the islands – lunch is always included in these super-long tours. There were a few people with monkeys near the restaurants. However our guides asked us to not approach them or deal with them in any manner. Apparently taking monkeys out of the wild is frowned upon. That was too bad. I'm not an animal person but they were pretty cute and I'm sure my daughter would love to have held one. I did manage to sneak one pic, from afar, that can be found in my image GALLERY.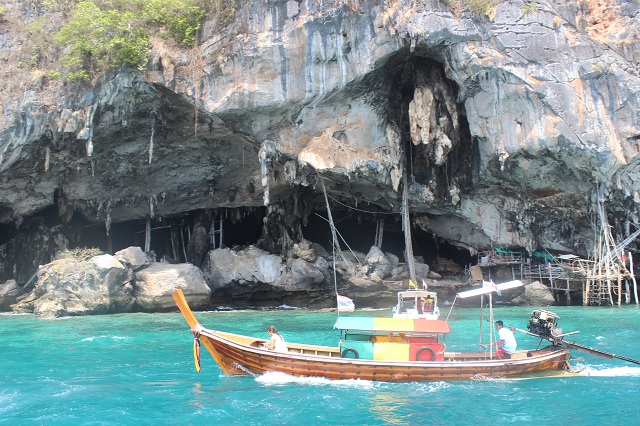 We were blessed with a nice group of fellow tourists on the boat. Most of them were Americans and ironically, Asian-Americans. There was a young expecting newlywed couple from Colorado who just up and moved (i.e. with no jobs lined up) to Malaysia. And there was a 22 year old college student (white bathing suit in video) from New Zealand who provided a little drama at one of the swimming stops.
She jumped off the top of the boat into the water taking a selfie video with her $400 GoPro Hero camera. In fact she landed right near me, surfaced, and announced that she had dropped her un-floatable camera. I had a late start but went down as deep and as fast as I could. I did get close to the camera and saw it descending ever so slowly  but I was 20 feet under and really at my limit. As I surfaced I was really, really gasping for air. I don't think I'd ever gone that deep underwater before. And I don't have a great lung capacity in the first place.
Well, then the Thai deckhands mobilized. I was holding the spot as best as I could. The water is of course crystal clear but how deep?
Apparently it's 15 meters deep (45 feet) and one Thai deckhand put his snorkel mask on and was preparing himself for a deep dive (i.e. streching and taking lots of deep breaths).
He said he could indeed make it that far down. While another tourist said her friend died free diving 40 feet – and he was apparently very experienced. She said these people die on the ascent….they can't get back up fast enough – which I had just experienced myself. I had thought that getting back up would be fast and easy. Apparently it's not when you are airless and spent from exertion.
Well the deckhand ultimately decided not to attempt retrieval. He wanted to be 100% sure where the camera was before going down. In other words he didn't want to have to scoot over an additional 8 or 10 feet at the bottom.  They said they'd send a SCUBA diver the next day. Understand these people work for pennies….so they were going to get the camera one way or another.
On our last island stop it started to rain. I made it back to the boat just before the deluge but on board, even though the boat was covered, we got drenched for about 20 minutes.  Actually I should say we got PAINFULLY PELTED by the rain because the boat was really flying.
Though we couldn't complain, it was the only rain we'd suffer throughout our entire 11-day vacation in Thailand.
I believe this terrific all-day boat tour cost $200 for our family of four.
When we got back we tried out another family-run, beachfront restaurant that was actually right next to our hotel – Daeng's – which although it sported lower ratings, we found it to be just as good if not better than Mama Jin's.
Sunday
In the morning Inez and I took a long beach walk.  I can't remember what we did with the kids.  They were either alone in the room or at the "kids club".
Then we headed to the pool for a bit.  We hit the gym and not only had a late lunch at daengs but we also just went there for a late dinner – or at least Inez and I did.  What can I say?  We are trying to detach from our kids!
I wanted to try something else and I was not disappointed by the huge barbecued prawns I ordered.  Oh yeah, we sent John and Christine to watch the "kids movie".
Daeng's has one of those massive menus that basically says they can make any combination of meat, veggies, fruit, and sea food imaginable.
So it's 9:30 pm and we are just about the only people left eating before they close at 10 o'clock…
And this older British couple comes in to eat a few tables away.
The woman pushes the thick menu away and says, "I'll have deep fried chicken….and chips."
Her husband partner says, "I'll have the same."
My wife and I almost died laughing.
These silly Brits flew 12 hours to Thailand….so they could order the same food they have back home???
Monday
We were up early packing our 5 suitcases and scrambling to get breakfast before a 7 am shuttle to the airport.
We had to leave earlier than usual and take a very circuitous route to avoid festival traffic.  April 13th was the first day of Sonkran – "Thai New Year's".
I'll tell you more about it in my forthcoming Bangkok post.  All you need to know is it's a big 3-day party/holiday throughout the whole country.
Unfortunately on the way to the airport we got jammed up in a little traffic – not much.  Something happened just in front of us.
There was a car/moped accident and lying on the ground in really bad shape was a very young girl – maybe 10 or 12 years old.  Of course they ride like semi-lunatics without helmets, and sometimes with four people on a single moped.  Toddlers all the time too.
Honestly I was really shaken up seeing the poor girl lying there all crumbled up in a ball with an older woman holding her, crying.  I feel awful even now thinking about it.
Our plane – which we arrived very early for – was, of course delayed.
It would take us only an hour in the air to get to Bangkok, our last stop before finally heading to…..where is it that we lived again?