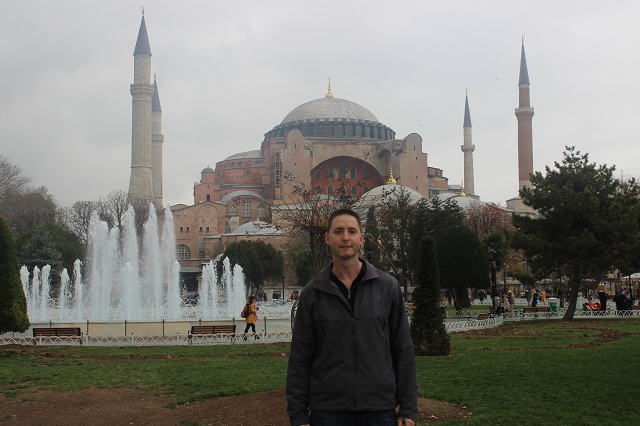 Well we made it. Istanbul was our second really big, much-anticipated trip.
We wanted to go somewhere exotic, it was highly recommended by many people including my brother, and after all, TripAdvisor's readers have it ranked as the number one travel destination IN THE WORLD.
And it was terrific!
We flew direct from London to Istanbul on Turkish Airlines – a pretty nice airline! The flight was about 4 hours and tickets cost roughly 161 pounds each ($255).
We arrived at night to our tiny, 8-room boutique hotel in the old section of the city (Sultanahmet) right next to the Blue Mosque and the Hagia Sophia.
We were also about 100 yards from a nice strip of restaurants, cafes, and commercialization.
Click on my GALLERY so you can follow along better.
Our first stop in the morning was the famous Basilica Cistern.
After that we took a tram up towards Taksim Square. We had to hike a bit after we got off the tram. Apparently the funicular that we could have taken across to get to the Square….is underground. No wonder I couldn't find it!
We were shocked to see Shake Shack in Taksim, after all they can be hard to find in the US! Nevertheless, we went in to feed the kids. John is allergic to sesame and we were pretty leery of feeding him too much Turkish food.
Next we climbed to the top of Galata Tower for magnificent panoramic views of the city.
Watch my short (2 minute) video:
Then we walked back across the bridge and into the bustling spice market.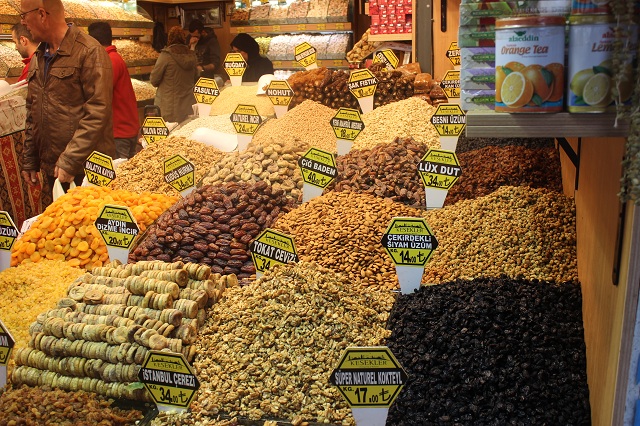 Finally at the Grand Bazaar, we were, or at least the kids were too pooped for anything more than a quick, partial walk through.
Nevertheless I made the grumblers walk all the way back to the hotel.
TRAVEL TIP – when sharing a hotel room with multiple children….do everything in your power to fatigue them!
Inez and I grabbed some delicious, authentic "Turkish" wraps on the street.
Our dinner that second night was, of course, traditional, "Ottoman food" for Mom and Dad at least. Here's a video (not mine) showing the fanfare of a Testi Kebab.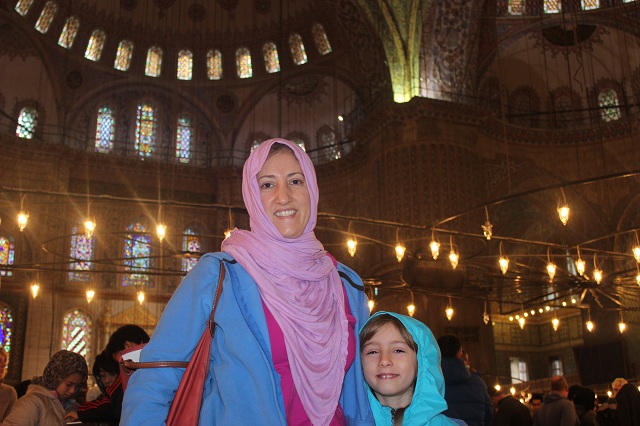 Day 2 we headed out early to the Blue Mosque. We had to, right?
In my opinion, it was just okay on the inside. There were so many chains supporting the hanging lights that they really obstructed the views of the ceiling. Personally I think most of these famous buildings look better from the outside!
Then we went across the way to Hagia Sophia. It used to be a Christian Church, then a Mosque, and now I'm not sure what it is. Owned by the government? A tourist attraction? You'll get a good view of it on my video below.
That afternoon Inez went to a "Turkish Bath" while I took the kids back to the Grand Bazaar where I got ripped off royally buying some foodstuffs. Long story….slightly embarrassing….I won't tell you!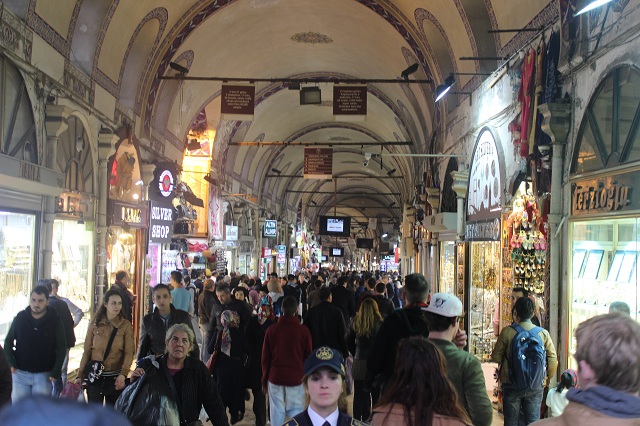 Anyway, Inez LOVED her bath experience. From what I could tell, she apparently died and went to heaven or something.
That night we went to see a real whirling dervish show….and had even more "Ottoman food" at a place near our hotel. I wasn't crazy about venturing too far out at night and, well, we didn't have to with some of the Top 10 TripAdvisor-ranked restaurants nearby.
TRAVEL TIP – Skip the whirling dervishes in Istanbul. They were beyond boring – a total tourist trap. There was a sign there indicating that photography and applause were not permitted due to the sacred nature of the show. Well, even without a sign there would be no applause forthcoming! It was that bad, that unimpressive. People were literally falling asleep. Maybe do the belly dancers instead?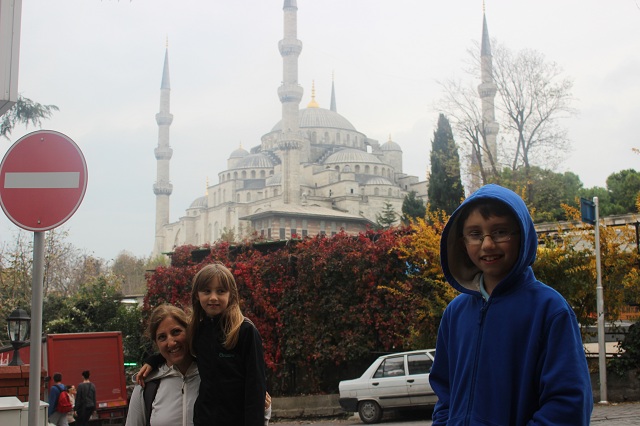 Our last full day…
We walked to the waterfront with the notion of taking a cruise up the Bosphorus on the public ferry.
But we misread the time tables and thus had to kill a few hours before the next one.
We found a cab – which wasn't easy to do on account of a road race going on in the city – and went to Miniaturk.
Miniaturk is a scale model of Turkey made primarily for children. Since we had children(!) and it was highly rated on TripAdvisor….we figured why not?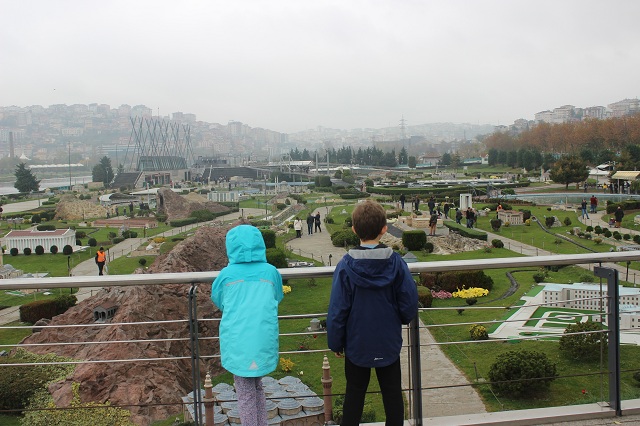 Did you glance at our Gallery yet?
As you can see we had an action-packed trip.
The Negatives
I completely disagree with people who say Istanbul is "safe" – at least for a non-Muslim, Western family.
It's not safe for one major reason – because we stand out.
But also, off the main roads and beaten tracks there was no feeling of safety. You'd go around a corner and all of a sudden you'd be in the middle of a ton of angry-looking, idle, young men. In fact there was a noticeable lack of women everywhere.
The cab ride up to Miniaturk was a bit scary too. We drove past tons of boarded-up, deserted buildings. I felt like I was in Iraq or on an episode of Homeland.
I was assured by our hotel staff that there were tons of undercover police officers around the city – but that doesn't provide the same level of comfort as actually seeing them in uniform.
You'd also see right on the streets vendors selling large knives, guns, and camouflage clothing. Of course that stuff is all available in the U.S. (not on the streets!) but there I'm quite sure it's for hunting deer and birds. In Turkey I wasn't quite as sure what it was for.
My wife and I were certainly relieved when we got into the cab for our flight home.
Since I got back I've had people tell me that they also didn't think Istanbul was safe. My landlady said, "I'd never go to Istanbul….it's the center of so much international crime – drug smuggling,…"
Turks also felt entitled to "touching" my daughter. They were constantly putting their hands on her, rubbing her cheeks, hair, back….even the hotel concierge was inclined to hugging her, picking her up, and whatnot.
They say this is simply "cultural". I say that's BS. Why no boundaries? Is this a gender thing? They weren't touching my son. My blood was boiling a couple of times. But what was I going to do? Punch somebody? I took deep breaths instead.
Lastly, the "touts" were a little aggressive – particularly near the Blue Mosque and the Hagia Sophia. You couldn't stand in line there without being constantly hassled. And you couldn't walk by a restaurant without similar aggressive harassment – "…if not today, then why not tomorrow?"
I can handle them fine but not everyone has such a prickly exterior to ward them off.
TRAVEL TIP – When a tout asks you a question, "Do you want….?", don't even say, "No, thanks" because then they know what language you speak and will start a dialogue with, "Why not?…." It's funny because if you don't make a peep they will approach you first in English, then French, then Spanish or Italian.
The Positives
The food was great, relatively cheap, and ubiquitous. Plus my wife and I very much like Turkish cuisine. Food pics are in the GALLERY.
Istanbul is definitely exotic and rich in history. It's a huge city (14 million human beings) and stands at the crossroads of Europe and Asia. You may have seen the photo of the train in my GALLERY. Well Istanbul was the beginning, or the end, of the Oriental Express too. It was also the geographical starting point for much of Christianity – although today that historical significance is muted there, to put it mildly.
Inez did much better than me at the Grand Bazaar. She regrets not buying more scarves which were considerably cheaper than in the US and the UK. She also really LOVED her Turkish bath experience – LINK.
Istanbul is very walkable and has decent public transport. All of the merchants and restaurateurs were accommodating, polite, and spoke English very well.
It's also a cheap city to visit (versus London and Paris).
We had a wholly memorable trip but some of the specific things that will stay with us are:
The ships. You could see 100 ships on the water at night.
Cats everywhere plus stray dogs here and there.
The amazing apple tea, the salep, baklava everywhere, Turkish delight everywhere, kebabs….the roasted chestnuts and corn being peddled on the streets.
The shoulder-to-shoulder fishermen on the Galata Bridge.
But most of all, at least in my case, I will remember the Call to Prayer – especially when we were at Miniaturk. Because there we were in what felt like a valley and the Call was ringing from every direction. You can hear it in the video below:
Okay.
Going to wrap this post up now.
Our next big trip is later this month – to Poland and Austria.