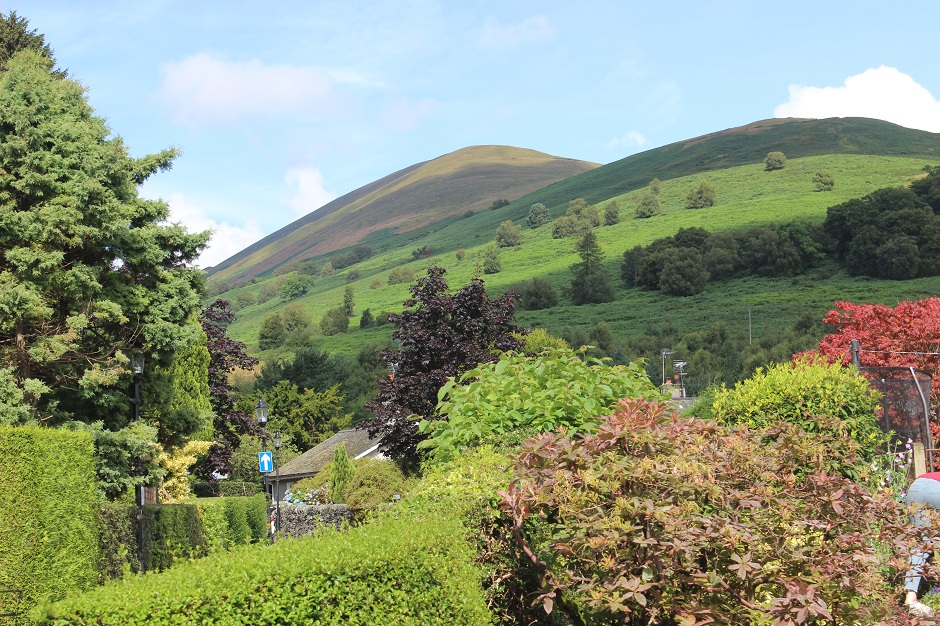 It was a last minute sort of trip. We always knew we would do something local (UK or Ireland) this August because the more logical (i.e. warmer) locales like Spain, Southern France, and Italy are too jammed and too expensive this time of year. But we never actually got around to planning anything!
We took the 4.5 hour train ride from London to Edinburgh last Thursday morning. I believe it cost 400 pounds ($750) roundtrip for four tickets. That included an extra 60 pounds for first class on the way there – an indulgence we were forced to pay for on account of availability.
Check out our amazing pics HERE – this time they are actually in chronological order!
The world famous Fringe Festival was going on in Edinburgh so the population swells from a normal 500k to 1 million. There were people everywhere; touts constantly thrusting flyers in your face; shows going on all day and night long; and overall a fun vibe to the city. You might have seen how John and I were drafted for a street show in the photo gallery.
The second day we did one of those hop-on-hop-off bus tours (33 pounds or about $55 for the family). It only took about an hour or so to circle the entire downtown area and get the lay of the land. Then we attempted to climb Arthur's Seat before the forecast inclement weather. Those were the pics you saw of us elevated….and the one below: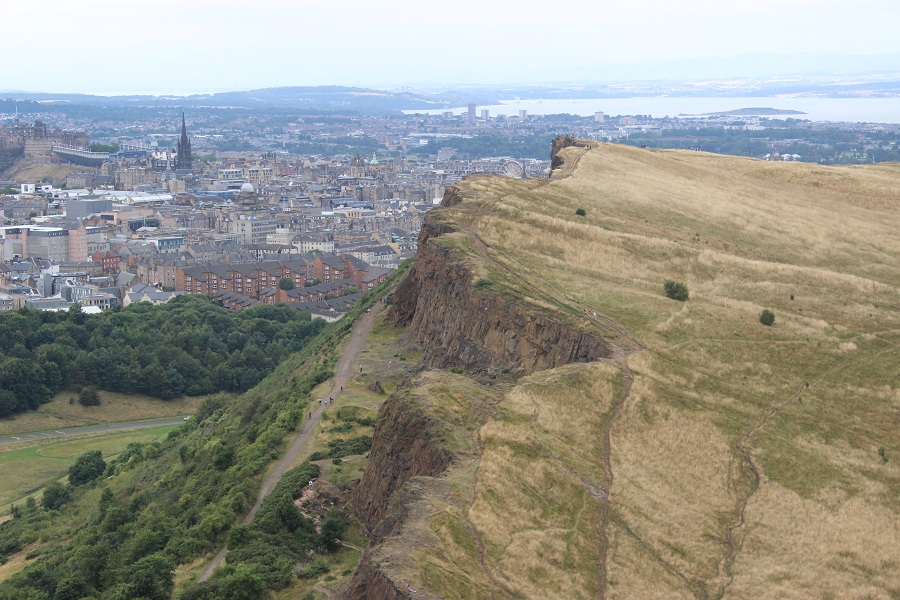 Day three we arose early, checked out of the hotel, and headed out on a 3-day tour of the Highlands. After filling the bus – to the brim! – in Glasgow our first stop was Loch Lomond.
Then we made our way up north through Glen Coe which was really spectacular. We arrived just over the bridge on the Isle of Skye around 6:30 pm. Skye is supposed to be the most amazing place to visit in Scotland so everyone was excited.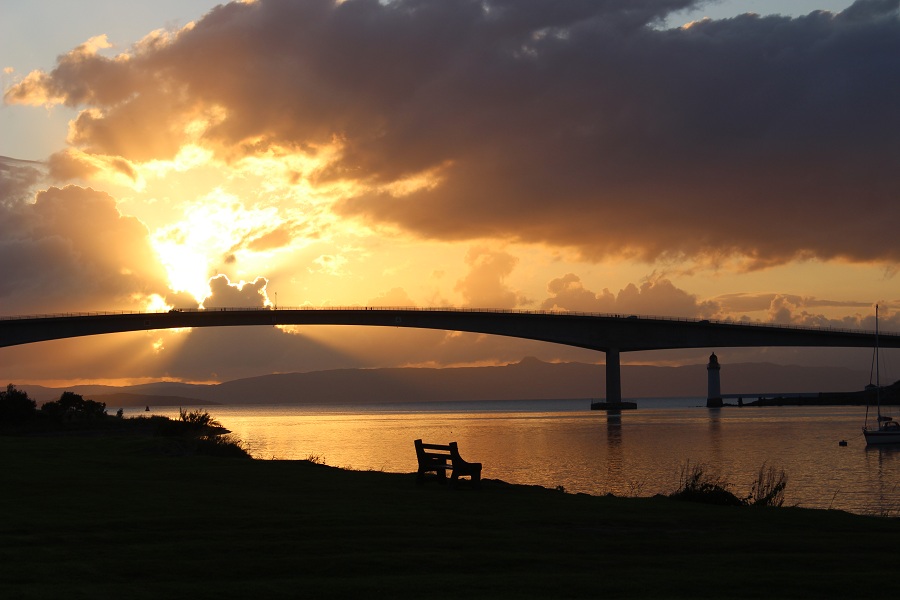 Our accommodations for the night were a mystery. They dropped us – and I mean just US, the four of us – off at some old lady's little house! We stayed with her and her dog for the night! Notwithstanding the smell of "dog" and cigarettes it turned out okay. (Though Inez would not use the shower!) She was super nice and made us a full/proper English breakfast replete with black pudding.
Inez liked it and inquired as to its constitution…
Our hostess, Maureen, said – and you are going to have to imagine a really earthy Scottish accent! – "I don't want to tell you what's in it….while you're eating it!"
Apparently it's made from sheep stomach (or "blood sausage").
We spent all of the second day doing a huge loop around Skye. It was absolutely beautiful but we felt that the Glen Coe area might have actually been a little more scenic. Admittedly we only saw Skye from the roadside. I'm sure there was a whole lot more off the beaten path. Just take a look at some of the Jurassic Park-esque pictures Google will turn up.
We hit Eilean Donan next. See image at bottom of post.
At 6:30 pm our bus arrived at Loch Ness and once again after dropping others off at commercialized hotels….he pulled up in front of a small house and the driver called our names!
My wife and I refused to get off the bus, sort of. Inez was definitely scarred a little from the night before!
But our new "old lady" hostess was terrific. Our only problem that night was finding food. We trekked for 20 minutes to one restaurant only to be turned away. It was totally full, had "bookings" for the rest of the night, AND was going to close in 90 minutes anyway. This is what confounds me to no end about Europeans. Why wouldn't they stay open another hour or so – FOR THE ONE MONTH OF THE YEAR WHEN TOURISTS ABOUND???
Another 1 mile walk through the rain and, thankfully, we found just about the only other place to eat in town. The Benleva turned out to be not half-bad either. There was 80s music playing, the food was decent, and we were treated to a very rare treat here in Europe….a hustling, cordial, attentive waiter!
Our third day started off with a cruise of the Loch ("lake") Ness in search of the fabled monster. John was seriously dreaming of catching Nessie on film and netting the one million pound reward. You can see him staring at the sonar on the boat in the photo gallery.
From there we drove south to the historic battlefield site of Culloden – which admittedly didn't sound very exciting going in. However it really was terrific and was a most fitting book-end to our tour of the Highlands.
You see our guide (and bus driver), "Mark" was awesome. Throughout our journey he was of course describing all the sites but he was also enlightening us on the fascinating history of the Scots. And the Battle of Culloden was really the tragic turning point, that on many levels effectively marked the end of Scottish independence.
Even today many Scots are still yearning for their freedom. There is yet another vote to secede from the UK next month! See – Scotland's Referendum.
Ah yes, and what would Scottish history be without the story of William Wallace, aka "Braveheart".
Well we zipped by Stirling Castle, the site of his most famed heroics, on the ride down to Glasgow. But we didn't have enough time to stop.
After dropping off some fellow tourists in Glasgow we made our way back to Edinburgh for one more night.
We were staying again at the Marriott Residence Inn right on the edge of the University and much of the Fringe Festivities. Having had our fill of mashed potatoes and sausages….we opted for something a little less bland our final night – Malaysian food at a place I would certainly highly recommend.
In the morning we headed out to the kid-friendly Camera Obscura – a very reputable, very old (since 1835!) museum of optical illusions, and followed that up with a trip to the National Museum of Scotland.
Summing it up…
Less than a week before we left, we were planning on DIYing this trip. We were going to rent a car in Edinburgh and drive out to Skye ourselves. However, we were having a real hard time finding hotels ("accommodation" here in Europe). Forget that, it was IMPOSSIBLE to find a room for even one night – no less for several. The rental car was going to cost 400 pounds ($750) and I was also very leery of driving here on the wrong side of the road, in the hinterlands, all the while trying to relax and take in the beauty of the countryside.
So I came up with the idea of a guided tour. But again, they were all booked solid, even looking out through the rest of the August. It is the busy season after all. Only 3 days before departure did Inez find a tour with room for us. It all at once solved our hotel problem and relieved me of my driving trepidation. I would say that it worked out pretty well too. We would never have learned so much about the history of Scotland without our tour guide….and I found the roads to be downright scary to boot! They were narrow and everyone was driving extremely fast – even in the pouring rain.
We unfortunately could not get tickets to the super world famous Military Tattoo which is running almost every day in August. Although we did get to enjoy the fireworks right outside our hotel room each night promptly at 10:30 pm.
Nor did we actually go inside Edinburgh Castle – instead opting to enjoy it from the outside.
Nor did I bring my golf clubs!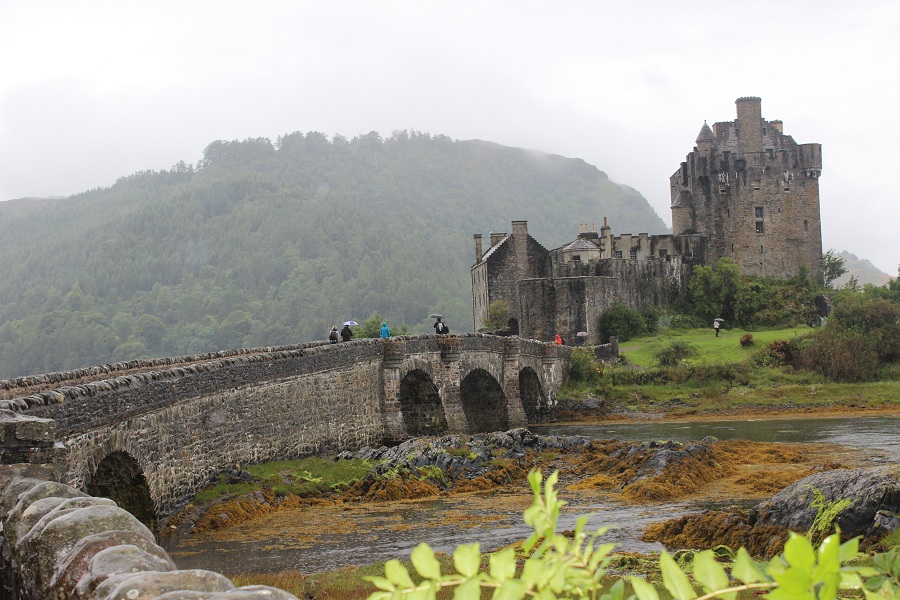 You might recognize the "most photographed" castle in all of Scotland – Eilean Donan which has been featured in films such as Highlander and The World is Not Enough.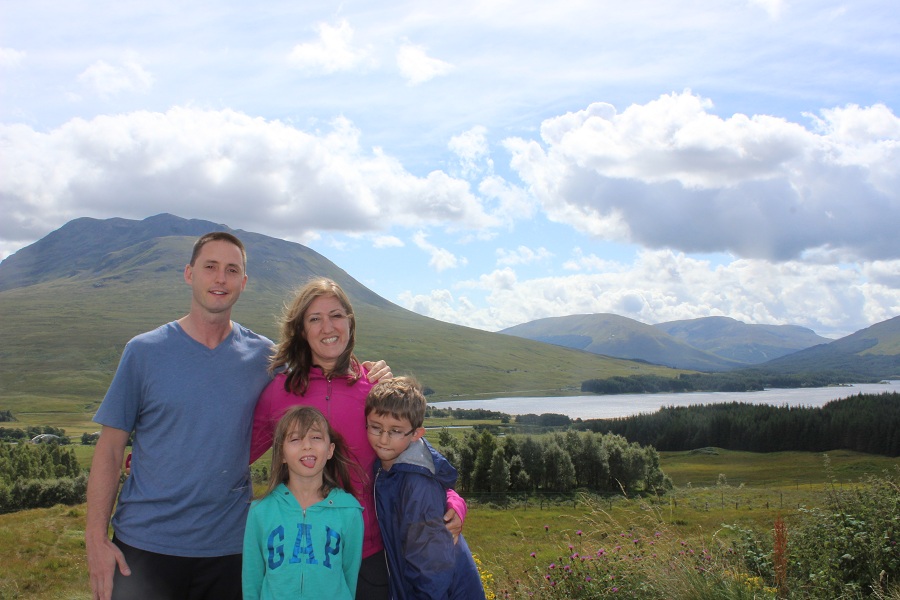 But overall I would say that this was a fantastic vacation. Not only was it fun and scenic, but it was incredibly educational. We learned tons about a country that we had previously known nothing about. And there's definitely a lot in Scotland's rebellious history that appeals to me both as an American and as a home educator.
Here's one last link to my photos – photos that my wife insists are actually more amazing than the ones I took in Sicily!
And here's some of the video footage I shot:
If you are traveling anywhere these days you'd be a fool to NOT be mining TripAdvisor.com.
Also worth a look is AirBnB.com.
Incidentally, TripAdvisor ranks Istanbul as the #1 worldwide travel destination.
So guess where we reserved some hotel rooms for mid-November (Thanksgiving)…