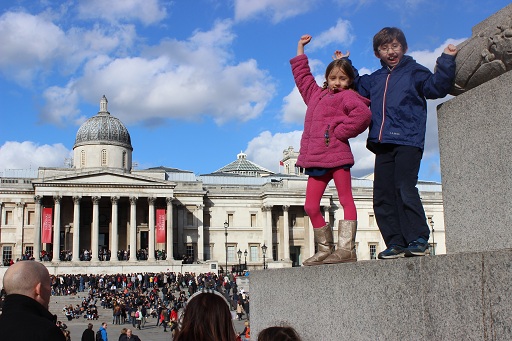 Sorry. We've been so busy that I haven't had time to update…
 Week 2
We finally had our belongings delivered from the States!
Our PCs, the piano keyboard, our kitchen stuff, the rest of our clothing, our books and workbooks,…
It was only then that I discovered how much my daughter and my wife OVERPACKED!
My wife packed 4, yes, FOUR tablecloths.
My daughter packed all sorts of junk. When I asked her why she brought along one of her finished works of pottery she said, "Dad, I only brought two of them."
I said, "Two of them? What did you pack two of EVERYTHING? What do you think….this is NOAH's ARK or something???"
We did manage to fit everything in a nook or cranny. But I don't know how much room we have available for "acquisition".
It was quite the descent that Monday. We got more furniture from the rental company delivered as well. Plus, we finally got the internet working. Even though all they had to do was flip a switch (no cable guy) remotely, it still took about 10 days. Oh, and the furniture delivery guys were, well, put it this way, if they were working in NYC they would be fired and or bankrupt. They showed up 2 hours late despite a call that said they would be there in "30 minutes". Then they proceeded to sit in the truck for an hour, RIGHT IN FRONT OF MY APT, and I have to assume they were taking an executive lunch break or something. So they came in over 3 hours late plus they didn't have everything they were supposed to have. Then they had to disassemble a bunk bed, and reassemble a new one which took FOREVER. Like I said, they'd be out of business in NYC. They must have been unionized or something. What seriously hard working person on this Earth ever has time for an HOUR LUNCH anyway???
Later in the week we went to a "home ed" park day. We went to the Victoria and Albert Museum. We did a long scoot (kids on scooters) to the library and back one day in the freezing rain. So what….they needed the exercise. My wife had to go to Dublin for 2 days for work. I think she ate a $24 hamburger there – Dublin is notoriously expensive. On Friday the furniture "fools" came back and wasted more of my time. I dropped the kids off at another home edder's house for a playdate. And when Inez got back from the airport, she and I went out to dinner at a wonderful Italian place called Orsini. (A 14 year old home educated babysitter, excuse me, a "child-minder" watched our kids.)
All week the apartment was in disarray, in various states of unpacking. Saturday was a day dedicated to organizing it all. I don't think we left the apartment. Sunday we went to church; ate out an afternoon lunch at yet another fabulous Italian place – although it was rather pricey.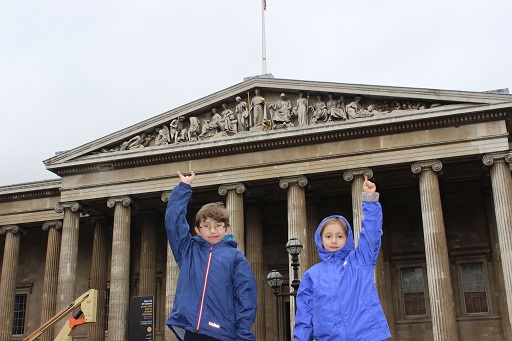 Week 3
Monday we went to the famed British Museum whose claim to fame is housing the Rosetta Stone. (yawn)
Tuesday our new piano teacher came for his first lesson. Both kids really liked him ($85 for 90 minutes). And even though I told him my son practiced for "an hour a day" he was still very surprised at how well John played.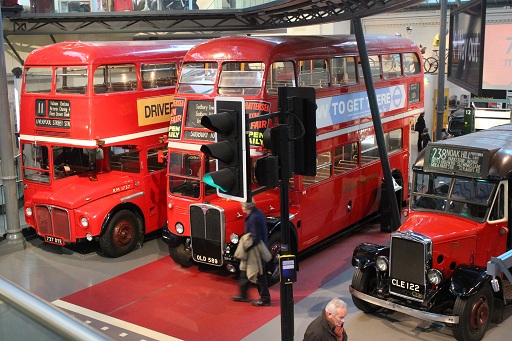 Wednesday we ventured out early to the London Transport Museum which was awesome.
That afternoon I had to stay in and teach some math to New Yorkers over Skype. When I was done, even though it was 4pm, the kids wanted to scoot up to the playground (Princess Diana Memorial Playground, 1.3 miles away) in Hyde Park so we ran out to try to beat the darkness. But the park was closed when we got there! Who closes a playground at 4:45??? Well, the Brits apparently do. I mean kids only get out of school at 3pm or so…so what's the point really?
Thursday we met up with another home ed family at Holland Park. I lost my daughter there for about 15 minutes – and I had no idea she was gone. There was a girl playing down the other end with a pink jacket and I just assumed that was my Christine. So a cop comes up, with my daughter, saying the she was sitting in their park police station for 15 minutes. I said thank you and he proceeded to take down all sort of information from me (like my DOB!). Finally I incredulously asked him if he was citing me or something. He said he wasn't….but then kept asking me questions. I was getting miffed and then he told me that I should "keep an eye on my kids." And that he understood because he had children himself.
Really? This guy hasn't seen his kids in 8 hours, I bet, and he's going to lecture me, a hands-on homeschool father, to "keep an eye on my kids."
Whatever, bloke.
Friday the weather was crazy windy. In the morning I took the kids on a scoot in a new direction, south. We scooted about a mile down to the Thames (I can't/won't pronounce it like the Brits). At night we had the child-minder again so we could got out for a Valentine's Day dinner. I couldn't find a TGI-Fridays in London(!)….so I settled on a highly rated Indian restaurant (Maharani Soho) in a hopping area. It was terrific and not too expensive for London ($115 for dinner and two classes of wine).
Saturday Inez took the kids to the library; I did some work online; and we took it easy. After church on Sunday I ventured to pick up a UK-compatible printer (mine can't handle 240 volts) and an expresso machine from the gentleman whom my wife replaced here (and who's moving back to America). Inez took the kids to St. James Park, Buckingham Palace, and Big Ben.
Week 4
After doing our core academic work in the morning we set out for the Museum of Childhood which John and Chrissy really enjoyed. It really is a historical toy museum and quite interesting for us parents too – to see all the stuff we grew up with – all the junk that is still in our own parents' attics! I think I took the wrong train there and we had to walk through some dicey neighborhood. Obviously we went home via a different route.
Tuesday we had our second piano lesson. Afterwards we ran out to Queens Park for a home ed park meet-up. They do a different park each week so it's been a nice way to expand and explore. It was pouring right when we "alighted" the Tube so we took shelter and read our books until it passed. And then the sun came out along with 2, arguably 3, sensational rainbows. Really, it's been around 50 degrees all week. We've certainly turned the winter weather corner here in London. I vaguely heard there has been a bit of snow back in the Northeastern US….but I'm not really paying much attention (haha).
Try as I might, I cannot remember what we did on Wednesday!
After a quiet day doing our math, chess, piano, etc….on Thursday afternoon we made it to Princess Diana Playground BEFORE they rudely closed it again at 4:45pm.
Friday we ventured out first to Picadilly Circus the "Times Square" of London and then down to the famed Trafalgar Square where the kids really enjoyed climbing on the statues. Then we met another family at the National Portrait Gallery – a home edding mom I found and contacted via her blog. She was very nice, very helpful, and our daughters seemed to hit it off right away. We strolled through Leicester Square (pic below) on the way home
Saturday I took John to his first London chess tournament. They are definitely not as organized or as well-attended as the NY chess tournaments. But it was fine. The only problem was that John ended up playing a couple people much stronger than him, and a couple that were much weaker than him. This is always a risk with small events. It's very easy to waste a day of it. But it wasn't a total waste. The tournament took place in the suburbs – so it was our first trip out there on the train. Everything we do is a scenic adventure.
My wife took Christine to the famous Portobello Road Market in Notting Hill which apparently was fantastic. Afterwards they went to the Princess Diana playground in Hyde Park BUT had to wait in line for 20 minutes just to get in. Yeah, it was that crowded. They had a sign out that said, "Queue Management"!
Recall I had been there a few days ago on a weekday afternoon. I remarked that it must be a mob scene on weekends. I mean it's not even warm out yet! Quite frankly, the size of the biggest playground (the ONLY one) in their biggest park (Hyde Park) is a joke. Yeah it looks nice and has a cool pirate ship for the kids to climb on….but it needed to be 6 times the size. Everything is too tiny here!
Today, Sunday, we ventured out to Camden Market and had a great time. It featured the best food we have had in London thus far. There was a lot going on there and would highly recommend this as a tourist stop. We'll definitely be going back….to eat.
So that is the activity update for now. In the future I hope to give some more of my acute social commentaries. They are welling up inside me at this point…