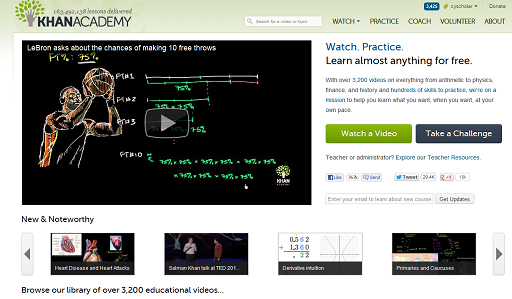 The latest online edu-gold mine we are using is Khan Academy. Many people have heard of it….but few are actually using it right now. And that's a shame because it's become an amazing resource. (Funny what million$ in funding can do!)
When it was first highly publicized (by Bill Gates, among others) it was just a collection of math videos. But now it offers interactive exercises with multiple levels of hints, skill maps, coaching mechanisms (for teachers), many new subjects, and more and more new instructional videos (over 3,200 right now).
It's well done too. I can't keep my son off the website. He's been learning about a variety of subjects these past few weeks including cryptography, logical reasoning, and Python programming in addition to traditional math. I misspoke in the video (link below)….John has actually mastered a whopping 55 skills in his first 25 days on the website.
I just made a little walk-through video of Khan's offerings. Watch it here.