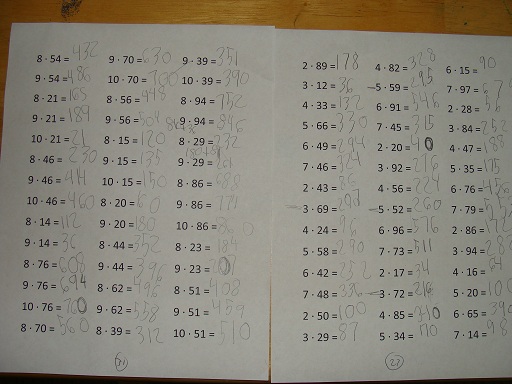 One of the things my wife and I find ourselves continually doing is – describing to others what exactly it is we do on a daily basis, in terms of educating our own children.
For example, yesterday…
While it's mid-August and there are summer activities aplenty here on Long Island, we still manage to do a full dose of academic work nearly 7 days a week.
Much to my chagrin, they woke up relatively late and after breakfast we had only 2.5 hours before I had to go teach my accelerated math classes.
So, over this time period, John practiced his piano/keyboard for a bit, then he did a full AMC 8 math exam, then he went on Khan Academy for some more math.
Christine, practiced on the piano/keyboard as well, she did a few workbook pages in her phonics book (Explode the Code), and she did a few of the multiplication worksheets which I have designed myself.
Now I was going to have to teach for 4 straight hours that afternoon, so while the kids were working….I was able to sit at my PC and get all my classroom preparation done.
I had planned on bringing John with me to my classes today – and had arranged to have Chrissy get picked up at the school by a mother who also *educates her own* where I taught. (Chrissy would bring lunch, some more work to do, and books to read). BUT Chrissy was showing slight indications of a cold and I thought better of sending her to another family's house.
So I was going to have to manage both of my own kids for 4 hours while I taught the two classes (9 + 14 = 23 paying students).
They brought books to read; I made sure I had more math sheets for them to do; and Chrissy brought her sketchbook and markers.
One of my classes is comprised of older kids (8th-11th grade) so I figured John (age 7.7) could sit in on that 2-hour class and follow the material. And the other class is full of younger kids (4th-6th grade)….so I figured Christine (age 6.16) could simply sit in on that one.
Now on the way to this school we hit massive traffic so our commute was extended. My kids read every minute of every car ride, so they got 45 solid minutes of book-time in.
When we finally arrived, I had to run right in and start teaching and consequently I lost control of my kids. After they finished eating a fast-food lunch, they apparently inserted themselves into an adjacent karate class instead of sitting outside quietly and doing the assignments I had brought for them! But this seemed to work out well. I let them horse-around through the first half of the second class as well before I put my foot down and demanded they at least read for the final hour there – which they did.
And they also read books for the circuitous 45-minute ride home as well.  I'm not sure about Chrissy, but John was reading Fablehaven and the National Geographic Kids Almanac 2012.
Before dinner, I spent 20 minutes with John going over his chess homework and we learned an *awesome* opening trap.
And Chrissy spent this time on the computer doing Khan Academy math. In fact even when Mom arrived home and dinner was served on the table (7pm now)….Chrissy was so engrossed by whatever she was working on that she wouldn't join us for several minutes.
That's a full day, a full SUMMER DAY of work right?
It was for me anyway. At 7:25pm I ran out to the driving range to fine-tune my approximately perfect golf swing.
But after dinner, I was informed that John went on the computer and did another 25 minutes of Khan Academy math….and that Chrissy spent some time reading with her mother.
After they were ready for bed, Mom continued her nightly read-aloud story – Mrs. Frisby and the Rats of NIMH – with them. I came home at 8:50pm, rang the school bell for dismissal and bedtime.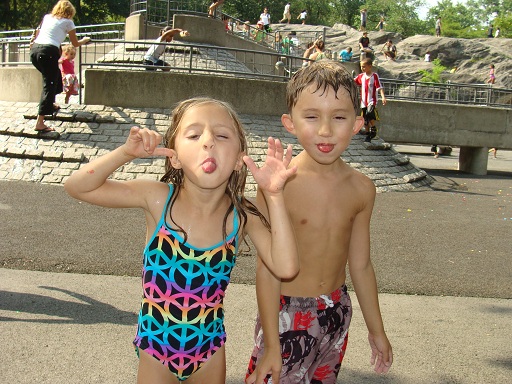 Today will also be busy. At 6:35am my son got up and started banging on the piano/keyboard. At 9:00am our piano teacher will be here for lessons. (I teach his daughters algebra simultaneously.) At 11:00am we'll be off to the library to meet John's chess tutor in a private room that I have reserved. Chrissy will be doing work with me or her mother at that time. Right after the chess lesson we will be racing to catch a train into Manhattan. We're meeting a few other kids *educated outside the system* for a fun afternoon in Central Park. Both John and Chrissy will be reading and/or doing math throughout the 40 minute train rides there and back.
So you can see, that in the course of a day, despite parental work, the sniffles, and distractions…there's still a lot that can be done from an educational standpoint once children are launched. Once they can read, have conquered the *math facts*, and learn to work independently….not only do they really take off intellectually, not only does their capacity and endurance for mindwork explode, but it also facilitates an amazingly free lifestyle where parents can work, kids receive a superior education, and families can spend significant quality time together.