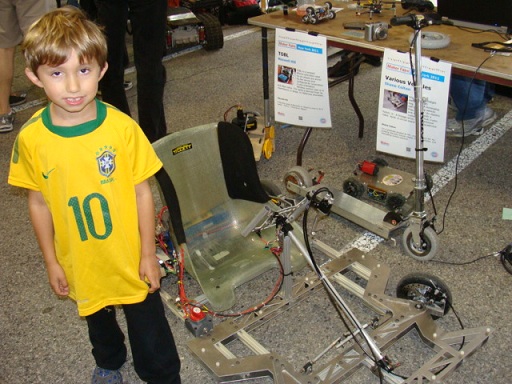 One of the oft-repeated excuses of parents is that they cannot teach
[physics, chemistry, calculus, etc.]…so therefore they ARE NOT qualified to give their child a complete education.
But that is ridiculous.  Other teaching/learning resources abound in this day and age. Plus, those are subjects to worry about much, much later on.
Consider my son's favorite subject – *science*.
Both of his parents possess little if any interest in this subject.  Yet somehow, John has managed to jump out far ahead in all things science.
Honestly, neither my wife nor I have done ANYTHING in the way of direct teaching.
Instead, John has taken very affordable (only $5-$8 per session) science classes and visited these institutions, parks, and museums over the past few years.
Cold Spring Harbor Whaling Museum
Science Museum of Long Island
Waterfront Center in Oyster Bay
Brookhaven National Laboratories
New York Hall of Science
Bronx Zoo
Museum of Natural History
Ecotarium (Up in Massachusetts, with grandparents!)
New England Aquarium
Boston Museum of Science
Franklin Institute
Cold Spring Harbor Fish Hatchery
Children's Museum of Manhattan
Planting Fields Arboretum
Garvie's Point Museum
Seatuck National Wildlife Refuge
Tanglewood Preserve
Queens Botanical Gardens
Sunken Meadow State Park
Captree State Park
Blydenburg County Park
Cradle of Aviation Museum
Port Jefferson Children's Maritime Museum
Miami Seaquarium
Maker Faire
New York Aquarium
Note that he's been to some of them many, many times such as the Waterfront Center (11 times) and Science Museum of Long Island (28 times).
We *make* his grandmother – a high school science teacher – do experiments with him on rare visits.  We buy him books and kits like Snap Circuits and LEGO Mindstorms.  We encourage him to redirect his questions away from us and toward Google… …
And also John makes extensive use of the science lectures on BrainPop.com.
And that's it!
At only age 7.5 John most certainly knows more about science than his college-educated parents.  Go ahead….ask him about nuclear fission, chemistry, astronomy, rocketry, genetics, botany, or oceanography.  Ask him about the electromagnetic spectrum…
Remember, all parents have to do is FACILITATE. The kids will soar all on their own!