So as you can see we've done a lot so far! Here are links to some of those places:
The Monument – (to the Great Fire of London 1666)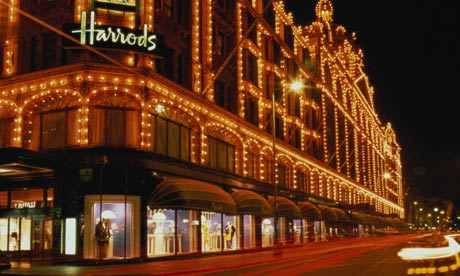 Inez has been jetting off here and there for short stints. She's had work in Dublin, Paris, Amsterdam, Zurich, and Milan thus far. She's both flown and taken the train to Paris. And one of her Milan trips….was a "day trip". Yeah, everything is that close.
John and Chrissy have really been enjoying the British home ed kids. Every week we do "park meet-ups" and the children all get along quite well. I would even go so far as to say that the kids here in London are much, much friendlier than those back in Long Island, New York. But the same is true of NYC kids. For whatever reason big city kids seem to be better *socialized*, if you will.
We've also been ice skating with other home edders in Streatham on Fridays. It's a little bit of a haul to get there. We first take the Tube deeper into the city and then hop an "Overland" train south. But the long trip is very relaxing and scenic for us.
Although on the way back one time…
As we raced for the train, Chrissy proved faster than John and me and boarded RIGHT BEFORE the doors shut. I tried to rip them open to no avail. The train went 50 feet down the platform with me yelling and banging for it to stop – which it did. It's okay though. My mother left me on a subway platform in NYC all alone back when I was about seven too. And I do believe that supreme act of deprivation helped chisel me into the rugged superhero I am today.
NOTE – train and Tube doors open and shut REALLY fast here and are immune to any attempts to obstruct! Also, when you have the walk signal at an intersection….it only lasts for about 5 seconds on London streets….before you'll get run over! It's interesting that in some matters here safety precautions are ridiculously thorough (e.g. switches on all electrical outlets) but others they are severely lacking (e.g. train doors and pit bulls running "off the lead" in parks).
My wife and I went to an Internations meet-up one night for adult socialization. It doesn't seem to be a married sort of crowd but it was nice to be out on the town – in spite of the $20 vodka tonic my wife ordered from a nice but utterly incompetent bartender. I'm not even sure they'd let him bus tables in NYC…
After some initial reluctance and false starts, we are utilizing and loving ordering our groceries online. They deliver to a 1 hour window….as early as 6am and as late as 10pm….for next to nothing.
One other side effect of online grocery shopping is that you end up eating healthier too. You are less tempted as you are when walking by all the baked goods, the cup cakes and donuts, etc., in the physical store.
As I predicted when we first got here, I have lost a lot of weight – 9 lbs to be precise – which is a lot considering my ectomorph physique in the first place.
Eating healthier – it kills me to pay $17 for a cheeseburger so I don't, the lack of NY pizza, the dearth of Mexican burritos, walking everywhere, hitting the gym 3 days a week (4.5 mile run plus weights), and deciding to cut just a little sugar out have all conspired to shrink me down to size.
One problem, however, will be figuring out how to get a tan! My wife and I have never been so pale…
Here's some more recent video footage.
The first part is from London's Heathrow airport terminal when we were en route to Amsterdam. You'll hear John playing this EPIC Star Wars theme – very complicated piece that he's been working tirelessly on. He's getting quite good at it. At the airport he's playing it from memory and while you can't see it in this clip, soon after there was quite a crowd gathered to watch and hear him play.
The kids, both of them this time, played in an all-day chess tournament in the suburbs this past Saturday. They did quite well. John won 6 out of 7 games and took first place in his division.
Chrissy delivered an impressive 4-1-1 record too. This was a qualifying event for a year-long, UK-wide championship run by International Master Michael Basman – whom we were fortunate enough to meet. So both kids advanced to the next round which we be sometime in May or June.
Here's John with his first place trophy: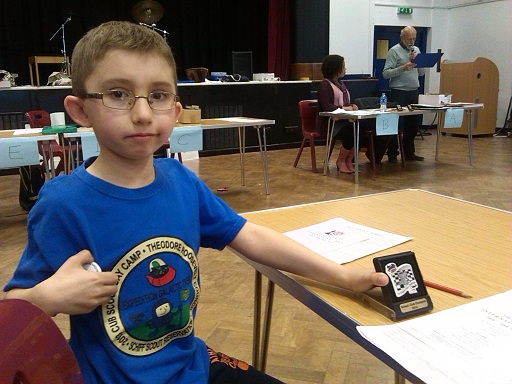 As you can see, he was underwhelmed to put it mildly.
Everything, EVERYTHING is smaller here in London.
Much, much smaller.
For point of reference, here's John with a 3rd place trophy he won at a huge chess tournament in Brooklyn back in January: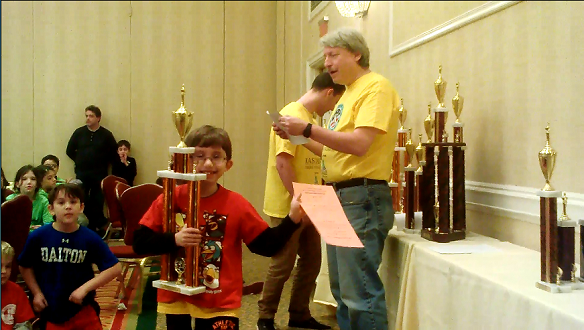 I mean really, that little trophy they gave him is a joke.
Not only is everything smaller here, but it's also a lot more expensive.
Yesterday I walked out of a pharmacy after refusing to pay over $10 for a can of much-needed shaving cream.
I figured I'd grow a full beard or something…