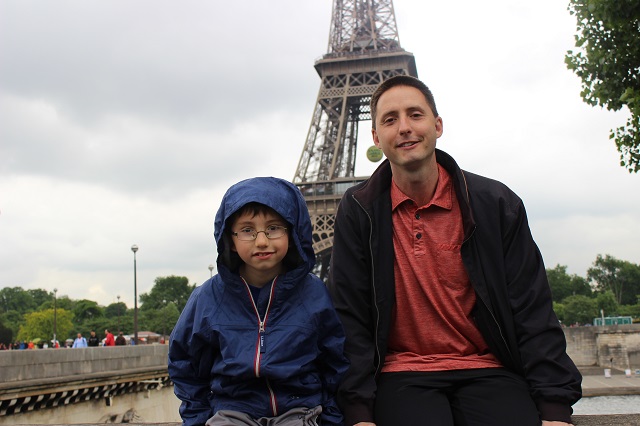 A week ago, we returned home from our wonderful 6-day excursion to Paris. Sorry it's taken me so long for the report. But, as you'll see, there was a lot to cover!
This was our big trip for the month of May. It was planned around some business meetings Inez had in Paris. We travelled there on the Eurostar train from London. It's a short trip of less than 3 hours and not that expensive. I believe it cost $400 for four roundtrip tickets. Although I believe if you don't order your tickets far enough in advance…you can pay a whole lot more.
We stayed pretty much smack dab in the middle of everything at La Residence du Roy. Lodging was 300 euros (roughly $400) per night. Apparently all over Europe it's pretty hard to find hotels that can comfortably accommodate four people.
Well we were indeed next to the Seine, the Louvre, the Champs-Elysees, the Arc de Triomphe, and not far from the Eiffel Tower BUT there was very little accessible food at 10 pm that night we arrived. My wife had warned me to BYOF from London. They just don't really have little bodegas and 7/11's all over the place. Maybe not at all. I tried to go out in the pouring rain and find some grub but failed. So we starved until the next morning.
I'm not going to blab too much because you have a lot of video footage to watch first:
Okay that's enough about Paris…
Like I said above, that was our big trip. We also flew home to New York for our one and only visit "home". That trip was planned around Christine's First Communion celebration. We saw many of our homeschool friends and our extended families descended as well, of course. It wasn't a very relaxing trip though because we had so many things to do and people to see that week. I managed to hit some golf balls at the driving range and to sneak into Manhattan for one last night out with a college buddy (He too is moving to Europe.)
It did feel weird being back. I mean I seriously couldn't remember people's names, street names, or where anything in our house was. Yeah….after only 3.5 months of being gone!
Both of our cars started and that was a relief. So was the 83 degree weather!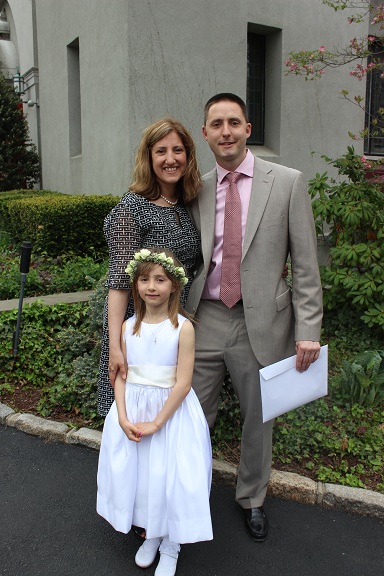 So half of the month were were away…
Otherwise we've been keeping the accelerator pressed here in London too.
Some of the things we did this month include the Docklands Museum, Mudchute Farm, Tower Hamlets Cemetery Park….Inez and I went to see Jersey Boys (the musical) featuring Tony Award-winner John Lloyd. If you can see it somewhere when he's starring, YOU MUST GO. We were blown away by the entire show but particularly by Mr. Lloyd. I mean, he was insanely good.
Both John and Christine played in the second round of the UK Chess Challenge this weekend. (They had both previously qualified in their first tournament). And both played well on Saturday. John qualified for the third round and Christine just missed advancing too. Although I may have to file a protest on her behalf. You see she's playing in a girls division but instead of the girls playing each other to actually see who the best girl her age is….they have them mixed in with the boys. So one girl qualified for round three ahead of Christine….but she and Christine never even played. In fact, out of her six opponents on Saturday only 2 of them were girls. Whatever. I will email my grievance nonetheless.
We were thinking about squeezing a trip to Milan and Lake Como in early June but at this point I don't think it's going to happen.
Next up then is our 8-day trip to Sicily towards the the end of June.
So au revoir, for now