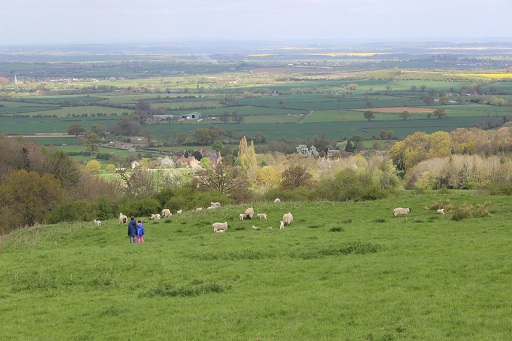 Okay. We're really humming along here in London now. It really doesn't take long for me to get up to speed!
Our London experience keeps getting better and better. We pretty much know what, where, and how to do a whole lot of things. Eating out, "topping off" our cellphones, getting around on the buses, etc. And we've gotten into a very nice daily and weekly rhythm.
One thing that I've been very excited about is discovering the St. Lukes playground. It's only about a 7 minute walk from our "flat" and is loaded with kids each afternoon. We've stopped making the long hikes to Holland Park and Hyde Parks playgrounds and pretty much been visiting St. Lukes every single day.
Big deal, right?
Well, it is. Back when I lived in Cohasset, Massachusetts I had a great routine where the kids would do their academic work at home and if they finished(!) we'd go to the park at 3 pm for a couple hours. But when I moved to Long Isalnd, New York….I lost this outlet. Sure there are parks in Nassau County, and even one right up the street from our house, but NO ONE ever goes to them. Instead, suburban Long Island kids do organized activities like sports, pre-arranged "playdates", and of course they have to do mountains of homework each day to compensate for the time wasted in "school". Well I think that's what they do anyway. And even when there are kids at the park on Long Island, oftentimes they aren't very friendly. They play with whomever they came with and that's it. I've actually seen kids say to my son after he approached them to play and say, "Well, I don't know you…"
Interestingly, whenever we've gone into the parks in NYC (only 18 miles west of Long Island) it's been a completely different experience. The city kids are much friendlier and we've stayed at playgrounds in Central Park and Battery Park for hours upon hours with our kids "getting on" with all sorts of random kids.
It's the same way here in London. The parks are filled with very nice, very "socialized" kids who are excited to play with mine. So again I'm back to a solid routine of intense seatwork from breakfast until about 3 pm, followed by at least two hours of park time. Usually I sit and read, do other work, walk laps, and eavesdrop on all the French, Spanish, and Italian I hear.
At the parks the kids have been playing a whole lot of "football" (i.e. soccer). And this is how youth sports were back in the US some 70 years ago. No one played Little League or Biddy Basketball. If kids wanted to play, they simply went down to the ballfield and made teams. I like to refer to it as "disorganized sports" or "unorganized sports". Kids do need outside time, exercise, and healthy competition. Ask any road-weary "soccer mom" or "hockey dad" in America" if they would rather their kids get their sports in at the park, down the street each day instead of 5 towns over!
Speaking of exercise…
I'm still dropping. I've lost 13 pounds in three months time here in London! Not that I really needed to. It's just the natural consequence of living next to a gym and working out 4-5 days per week….plus a no-car, city lifestyle. I've been running too. More often and much farther than ever. Here's the loop I did around Hyde Park yesterday: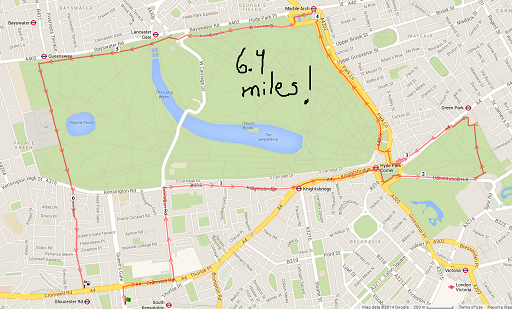 I've even been thinking about running a half-marathon in October…
Speaking of parks….it's starting to get really crowded here in London. The tourists are pouring in at an increasing rate. I guess it's because of the warmer weather. Anyways I could barely run through Hyde Park at 9:30 am on a Saturday with all the "lost", ESL, map-staring tourists clogging up the paths. I'll have to start going earlier.
Believe it or not, it basically hasn't rained for the past 2 months here! Yeah, Easter was "damp" as they like to say here….and there were a few other scattered days of rain but that's about it. That good fortune coupled with the 60+ degree daily weather has given me the LONGEST spring I've ever experienced. It's been truly awesome. (The northeast US goes from winter to summer too fast and from summer to winter too fast. It's a shame because the spring and fall bring the most beautiful weather.)
For Easter weekend we hopped a 3-hour bus ride to spend a few days in Stratford-Upon-Avon, William Shakespeare's birthplace:
The second, cute little town we went to is Chipping Campden.
Did you see all those spray-painted letters on the sheep? I kept telling the kids that an "S" meant the sheep was going to become soup. And a "K" meant the sheep was going to be skewered on a kabob…
Here's the video footage. In it you'll see Chrissy sing one of her songs, John play "Little One" by Bartok on the piano, and you may even catch a glimpse of a super-thin me answering the door buzzer!
By the way, that lamb off the kabob was unbelievable. (Cost $31 too!)
The kids' schoolwork has been going well. Although John has been going ballistic on Khan Academy. You see, every time he gets close to finishing the math section….Khan adds more skills. In fact, Khan added a few hundred skills over the past month! Several of my math students groaned as well. Lucky for them, however, their parents don't actually make them do it all! BUT the good news is that Khan is blowing out the modules for younger kids. So now Chrissy is using it more, as should your younger children too.
No chess tournaments this month. We've been studying and playing online a lot still.
John has really, really taken off with the piano. He had his 2-year anniversary a month ago and while a few people on YouTube laughed at me calling him a "piano prodigy" initially….I think he's really started to narrow the gap between him and actual prodigies. YOU watch this, watch his fingers flying everywhere, and note that he's playing this ENTIRELY FROM MEMORY, after only 2 years of playing, and make your own assessment:
All he does is one hour of practice per day, coupled with one 45-minute lesson each week! I've thought about hiring another instructor for an hour each week to ramp it up and see what happens….but I'm afraid to tinker with our current formula that has not only worked so well, it's stoked a genuine love of the piano. The worst thing I would ever want to do is push him too hard – on this anyway.
Chrissy is coming along too. Make sure you watch this through the surprise ending:
It was the Love Theme from The Godfather, in case you didn't know.
Other places in London we've done this month include the Wetland Centre, Regent's Park, Hampstead Heath and Primrose Hill, the Borough Market (got the famous grilled cheese sandwich), a terrific science show at the British Library, the Southbank Food Market, and my wife and I dined at Gordon Ramsay's Bread Street Kitchen (extremely beautiful, very expensive, mediocre food).
As you can see, we're packing a lot into each month – even though this felt like the most quiet month yet.
Today we depart for a week in New York for my daughter's First Communion. After that, we don't expect to be back stateside again until March 2015.
Next up will be a week spent in Paris toward the end of May.
I just know that when I get back to New York this week I'm going to have to suffer no less than 100 people telling me how skinny I look.
Generally speaking, I prefer to get out in front of things, to go on the offensive. So I'll be sure to tell everyone FIRST how fat they look….how they are typical FAT AMERICANS!
Haha.